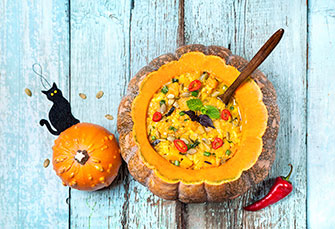 When you think Fall, pumpkin and chili both come to mind, right? Well here's a recipe that unites the two in one delicious dish. And it's healthy too—the carotenoids found in the pumpkin (a main ingredient) help reduce the risk of breast, prostate and lung cancers and their recurrence.
This chili is a delicious way to increase your daily fiber intake thanks to the pumpkin, beans and corn.
Feel free to make it your own with other healthy ingredients such as butternut squash or quinoa.
1 Tablespoon extra virgin Olive oil
2 cloves Garlic, minced
2 stalks Celery, chopped
1 Bell pepper, any color, chopped
1 medium Onion, chopped
1 Zucchini, diced
2 BPA-free cans (15 ounces each) organic Kidney beans, rinsed and drained
1 BPA-free can (15 ounces) organic Pumpkin, approximately 2 cups
1 cup frozen organic Corn
2 BPA-free cans (15 ounces each) organic diced Tomatoes, drained
1 cup low sodium Vegetable broth
1 Tablespoon smoked Paprika
2 teaspoons Chili powder
2 teaspoons dried Sage
1 teaspoon organic Maple syrup or Blackstrap molasses
½ teaspoon Pepper
½ teaspoon Salt
2 teaspoons ground Cinnamon
Add olive oil to large saucepan or Dutch oven.
Sauté garlic, celery, bell pepper and onion over medium heat until onion is translucent.
Add zucchini.  Cook until tender, stirring often.
Add all other ingredients except cinnamon.
Increase heat. Bring to a boil, stirring occasionally.
Lower to a simmer. Cover.
Cook for 45 minutes to an hour, stirring occasionally.
Add cinnamon.
Yield: 8 servings
Approximate nutritional breakdown per serving: 182 calories, 9 grams protein, 2 grams fat, 32 grams carbohydrate, 11 grams fiber, 210 milligrams sodium.
Contributed by Terri Taylor RD- Virginia G. Piper Cancer Center