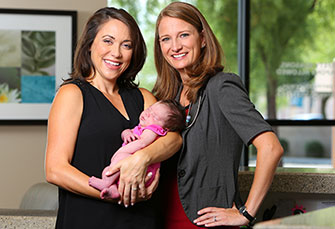 Jenny has one wish when it comes to healthcare: it must be simple and easy.
"We're a family of six, with four kids under age 6," said Jenny. "I'm a stay-at-home mom, and my husband is in law school. So complicated healthcare isn't an option."
Jenny's wish was answered when she found a healthcare team in one location that could provide routine care for the whole family. Dr. Corina Veatch and Dr. Andrea Patton provide pediatric care for the family's four little ones, along with more specialized women's and men's healthcare for mom and dad.
Most importantly, when any of the family members have health concerns, Jenny and her husband partner with their doctors to make care decisions.
"We value the relationship with our doctors because they're patient, listen to our concerns and more importantly, our wants. For us, healthy is simple, easy, and it's personal," said Jenny.
She explains that whether it's a simple test like assessing Vitamin D levels or a more complicated procedure, Dr. Veatch and Dr. Patton explain everything so Jenny and her husband can use the information to manage her family's health. That combined with the fact that Jenny can now access via her phone the same health records as the family's doctors, further simplifies life for the busy family. She's said goodbye to the cumbersome paper binder that used to house her family's medical records.
"My husband and I are able to make the best choices because we have a voice. To have that kind of personal relationship with a doctor is comforting," said Jenny. "And when you have that comfort level, you also can manage your overall health better.
If you're looking to simplify your care – we can help you discover the benefits of a personal healthcare relationship at HonorHealth.