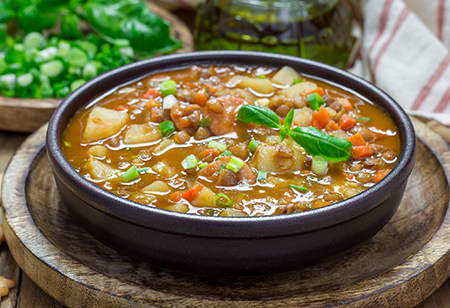 Eating clean is a lifestyle approach that stresses whole, unprocessed foods. Say goodbye to foods with chemicals, artificial flavorings and colorings, and processed fats and sugars. Replace them with real, whole foods, including local, seasonal produce. This recipe showcases some of the vegetables and fruits in season in January in Arizona.
Ingredients
3 tablespoons extra virgin olive oil
1 medium yellow or white onion, chopped
2 carrots, peeled and chopped
2 organic celery stalks, chopped
2 garlic cloves, minced
2 teaspoons ground cumin
2 teaspoons smoked paprika
½ teaspoon dried thyme
3 cups fresh chopped tomatoes
1 cup brown or green lentils, picked over and rinsed
4 cups organic low sodium vegetable broth
2 cups water
½ teaspoon salt
Freshly ground black pepper
1 cup chopped fresh collard greens or kale, tough ribs removed
Juice of one-half to one medium lemon, to taste
Preparation
Warm olive oil in large soup pot over medium heat. Once heated, add chopped onions, carrots and celery.
Cook, stirring often, until onion is softened and translucent, about five minutes. Add garlic, cumin, paprika and thyme. Cook until fragrant while stirring constantly, about thirty seconds.
Add tomatoes. Cook a few more minutes, stirring often. Add lentils, broth and water. Add salt to taste. Season with freshly ground black pepper.
Raise heat. Bring mixture to a boil, then partially cover pot and reduce heat to maintain a gentle simmer.
Cook for 30 minutes or until lentils are tender but still hold their shape. Add chopped greens. Cook for five minutes more, or until greens are softened as desired.
Remove pot from heat. Stir in lemon juice. Season with more salt, pepper or lemon juice to taste.
Yield
Four meal-size servings
Approximate nutritional breakdown per serving
278 calories, 13 grams protein, 10 grams fat, 34 grams carbohydrate, 19 grams fiber, 476 milligrams sodium
Sign up for a healthy cooking class at the HonorHealth Virginia G. Piper Cancer Center. To participate in the cancer center's Community Agriculture program that provides fresh local produce, call 480-323-1275.