HonorHealth volunteer opportunities
If you are interested in volunteering, we encourage you to submit an application for HonorHealth or Desert Mission. Due to the ongoing impact of COVID-19 in our community, not all service areas may be available. We are continuing to process applications and will reach out to you about volunteer opportunities at the campus you select. We appreciate your interest in volunteering and look forward to hearing from you!
Thinking about volunteering?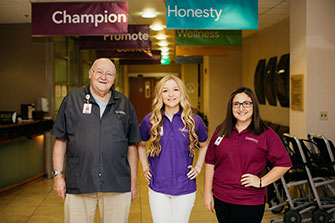 HonorHealth welcomes compassionate, dedicated volunteers from all walks of life. Their diverse ages and experiences enable volunteers to fulfill the many needs and projects that benefit HonorHealth patients, their families, support staff and the community. With so many service opportunities, you'll be able to match your skills, talents and interests with HonorHealth needs.
Opportunities for teens
HonorHealth offers two teen volunteer programs for high school teenagers interested in volunteering, the Summer Teen Volunteer Program and Medical Explorers Club. These programs provide teens with the opportunity to: 
Engage with their local community
Get an understanding of the healthcare industry
Develop leadership and customer service skills
Learn more about program requirements
Opportunities for adults
These volunteer opportunities are available for adults age 18 and older.
Please note: HonorHealth only participates in court-ordered community service at the Desert Mission Food Bank. Volunteering does not guarantee placement for job/certification requirements. Nor does HonorHealth offer internship, externship or job-shadow programs. A minimum six-month or 100-hour commitment from volunteers is requested, but more is preferred.
Please keep in mind:
A regular, fixed schedule is required for most volunteer positions
Volunteers are required to wear a volunteer badge and uniform
Volunteers are required to sign in and out during their service
As a part of the commitment to the health and well-being of the workforce and community, HonorHealth no longer hires or rehires individuals who use tobacco. Volunteers who use tobacco products are not accepted
Volunteer application process
Select a program: HonorHealth or Desert Mission. Complete the form and submit it.
Check your email for an invitation to interview with the campus supervisor at your desired service location. It may take two business days for you to receive an email. If you don't receive an email, please call the Volunteer Services Department at 480-587-5097 or the campus of your preferred service for assistance.
Arrange and complete an interview with the Volunteer Services Department to discuss possible service areas and your availability and interests for volunteer service.
Complete the required checklist items. They include the following:

Obtaining a health screening through our Occupational Health office (no charge).
Reading and agreeing to the HonorHealth Volunteer Handbook and volunteer policies and procedures.
Attending a new volunteer orientation.
Volunteer Services Department will complete a criminal background check (no charge) when all checklist items are completed. If you pass the background check, you'll be contacted to schedule your service placement, and arrange for you to get your volunteer ID badge, uniform, schedule and training dates. Successfully completing your service area training may take as long as 12 hours or three shifts.
Types of positions
A variety of year-round opportunities are available at these HonorHealth locations:
Service-oriented positions
If you want to interact with a variety of people, including patients, visitors, HonorHealth employees and others, the following service-oriented volunteer opportunities may be a good fit for you:
Information desk
Gift Shop
Hospitality Services
Music Enrichment
Transport Services
Thrift Store
Virginia G. Piper Cancer Center
Breast Health and Research Center
Library Services
ACT Teams
Please consider the Gift Shop for your volunteer service because funds provided by the HonorHealth gift shops and other Auxiliary fundraising projects are donated to the Network each year. They help provide additional services and equipment for patients and the community. Your service in this area enables HonorHealth to continue this yearly contribution to patient care.