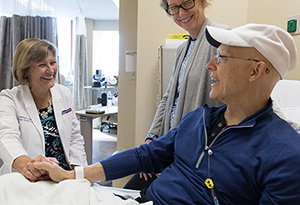 In collaboration with Stand Up to Cancer, two clinical trials — one using high-dose vitamin C, and the other vitamin D, in combination with other drugs — are being conducted for stage IV pancreatic cancer patients at the HonorHealth Research Institute in Scottsdale.
Stand Up To Cancer is an initiative created to accelerate innovative cancer research that will get new therapies to patients quickly and save lives now.
In one clinical trial, "we're combining high-dose intravenous vitamin C with two chemotherapy drugs, abraxane and gemcitabine, plus an older chemotherapy drug called cisplatin," said Joyce Schaffer, RN, MSN, a cancer care navigator at the institute.
"We've had an incredible response with the combination of the three chemotherapy drugs in previous clinical trials for first-time treatment of patients with stage IV pancreatic cancer," she noted. "We want to see if the intravenous, high-dose vitamin C can activate ROS — reactive oxygen species — which could boost the effects of the chemotherapy combination to kill cancer cells."
Schaffer noted that it takes the intravenous form of vitamin C to produce a high enough dose for the body to absorb. Participants in the clinical trial need to have never received treatment for stage IV pancreatic cancer.
The other clinical trial, also being conducted in collaboration with Stand Up To Cancer, is for stage IV pancreatic cancer patients who have previously received cancer treatment. "With pancreatic cancer, we know it's going to come back," Joyce said. The trial combines immunotherapy drug Keytruda with paricalcitol, a form of vitamin D. "We're looking for an effective maintenance protocol for these stage IV pancreatic cancer patients."
To learn more and inquire about your eligibility for either clinical trial, call 833-354-6667 or send an email.