Nursing and clinical excellence at HonorHealth
Nursing excellence is at the forefront of outstanding patient care. HonorHealth empowers the professional nurse to recognize his/her unique gifts, to give voice to ideals, to strive for personal, professional and academic excellence and to accept the challenge of the human experience.
HonorHealth's Center for Clinical Excellence supports a culture of professional collaboration and clinical excellence in patient care by supporting the practice, education, research and innovation of more than 4,000 clinicians.
HonorHealth's commitment to nurses is evident by all five hospitals achieving Magnet designation. Achieving and maintaining Magnet designation is considered the highest level of recognition a healthcare organization can achieve for nursing excellence and quality patient care.
Professional development and scholarship opportunities at HonorHealth include:
The HonorNurse program – which is a voluntary program for full-time and part-time RNs throughout the HonorHealth System for professional growth and development
Professional nursing specialty certification
HonorHealth Foundation scholarships
Programs at HonorHealth include:
Transition to Practice

New Graduate Residency
Critical Care Academy
Perioperative Academy
Advanced Practice Provider Residency

Medicare Graduate Nurse Education Demonstration
Nursing Simulation Education
Research and evidence-based practice is the foundation for continuously improving the quality of patient care and patient outcomes. HonorHealth nurses play an integral role in the research process. HonorHealth supports research and evidence-based practice in many ways, including:
Network Nursing Research Council, which provides an interactive forum where nurses develop, review and present nursing research studies, discuss research literature and provide support in translating research evidence to practice
Annual Nursing Research Festival: This annual event is open to HonorHealth nurses and nurses from other hospitals on the Magnet journey. The festival features presentations by novice nurse researchers who highlight their work in research and evidence-based practice.
Evidence in Motion, held annually during Nurses' Week, gives nurses an opportunity to present their work in quality initiatives, evidence-based practice and research
HonorExcellence is designed to improve the experience of patients and staff, as well as the clinical care patients receive at HonorHealth. Nurses are actively supported in their work, through core components of HonorExcellence that include:
Purposeful rounding and deliberate coaching
Empathic communication
Evidence-based practice
Shared Governance is a Magnet® principle that supports a culture of accountability and responsibility through Structural Empowerment, one of the five components of the Magnet® Model. HonorHealth's mission to improve the health and well-being of those we serve is evident through the dedication and commitment by its governance councils. Shared governance offers nurses the opportunity to have their voices heard and be professionally engaged in their practice. Through several nursing councils and a network interprofessional practice council, nurses are able to collaborate and share in decision making that is focused on improving the quality of patient care, safety and the nursing experience at HonorHealth.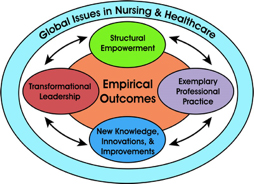 ©American Nurses Credentialing Center. All rights reserved. 
Reproduced with the permission of the American Nurses Credentialing Center.