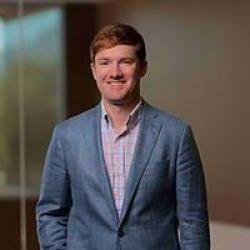 Joseph Caveney, MD
Medical Oncology |
Hematology |
Cellular Therapy
Languages: English
HonorHealth Medical Staff Member
Specialties
Medical Oncology
Hematology
Cellular Therapy
Credentials
Board Certifications

American Board of Internal Medicine/Hematology, American Board of Internal Medicine/Medical Oncology, American Board of Internal Medicine
About
Dr. Joseph Caveney provides expert care at the HonorHealth Cancer Transplant Institute. He specializes in malignant hematology with further sub-specialization in blood and marrow transplant, and cellular therapy.
Clinical Interests
Blood and Marrow Transplant
Cellular Therapy
Care philosophy
It is a privilege to accompany patients down a journey with potentially difficult diagnoses. The field of transplant and cellular therapy is rapidly evolving, especially in the area of immunotherapy, which I hope to use to improve treatment outcomes for patients.