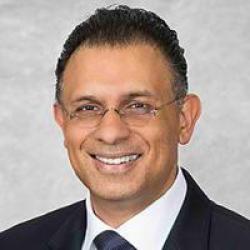 Zain Khalpey, MD
Languages: English, French
HonorHealth Medical Group
Credentials
Residency

Brigham & Womens Hospital

Education

University of London

Fellowship

Columbia University, New York Presbyterian Hospital

Board Certifications

American Board of Thoracic Surgery
About
Dr. Khalpey has served the Arizona community since 2012, building a reputation for his work using artificial intelligence, regenerative medicine and precision medicine techniques to impact heart patients throughout the region. His work with coronary artery bypass patients evaluates regenerative approaches that may help remodel scar tissue in a patient's heart, sometimes delaying or preventing the need for heart transplantation.
Dr. Khalpey is part of the HonorHealth Heart and Lung Surgical Group,specializing in the most advanced care for your heart and lung surgical needs.
Clinical Interests
Sudden cardiac death
Using short- and long-term devices in shock and heart failure patients
Total artificial hearts
Robotic coronary artery bypass
Robotic mitral valve repair
Atrial fibrillation and arrhythmia ablation surgery
Applied clinical artificial intelligence
Care philosophy
Dr. Khalpey strives to develop an emotional connection with each patient and their family. He believes that operating on a heart requires a personal approach.
Hobbies
Playing tennis
Spending time with his family