Interested in auditioning?
Rotation includes: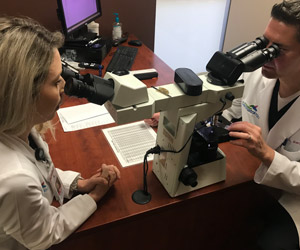 Shadowing Dr. Barr and residents at Anthem, Surprise, Deer Valley and Scottsdale locations.
Attending didactics. Rotators are required to present a 10-minute PowerPoint presentation at the end of rotation on a topic chosen by chief residents.
Seeing MOHS surgery and dermatopathology.
Eligibility
Fourth-year medical students: four-week rotation, two weeks for special circumstances.
Interns rotate for one week from July 1-Dec. 1.
Additional rotations accepted on case by case basis.
Questions
If you have questions about the HonorHealth medical student program or the application process, please contact the program coordinator via Email us or call 480-556-0446, ext. 1045, between 6 a.m. and 1 p.m. (MST).