Why choose the HonorHealth general surgery residency program?
The HonorHealth general surgery residency program offers: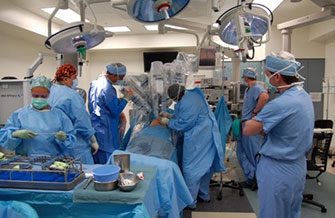 A strong academic curriculum.
Twenty general surgeons associated with the general surgery residency program. They are experienced in trauma surgery and advanced laparoscopic and robotic procedures.
Full-time surgical staff in the disciplines of plastic and reconstructive surgery, cardiothoracic surgery, colorectal surgery, vascular surgery, endocrine surgery, breast surgery, critical care and surgical oncology working closely with you during your training.
A general surgery/trauma/ICU rotation as many as nine months a year during the first four years. You'll spend the other months rotating through the specialties noted above. The chief year is spent transitioning into the role of attending surgeon as chief residents run their own service staffed by the Program Director Alicia Mangram, MD, FACS or one of the site directors.
An active endoscopy program – a must in the training of the modern surgeon. Advanced bariatric and robotic surgery program – residents begin the robotic surgery curriculum in the first year, docking at the bedside, graduating to the console and completing training certified in robotic surgery.
Level 1 Trauma Center at HonorHealth John C. Lincoln, Deer Valley and Scottsdale Osborn Medical Centers. The trauma center gives you experience with a variety of emergency procedures/operations as well as critical care management. The hospitals' surgical ICU offers an invaluable education in the treatment of critically ill patients.
HonorHealth medical centers each offers a diverse patient population. Other opportunities for training include: Valleywise Health Medical Center (burn); Phoenix Children's Hospital (pediatric surgery); and Mayo Clinic Arizona (transplant).
Fundamentals of Laparoscopic Skills and Skills Lab: Simulation time is set aside for you to attend a Skills Lab (junior residents) or simulation training for FLS or the DaVinci robots. We also have access to Banner University Medical Center's FES lab to prepare for FES certification. Attending surgeons educate you on proper surgical technique. Residents participate in "March Madness" for FLS simulation after ABSITE.
Instruction in surgical techniques starts in the intern year, when you're taught laparoscopic fundamentals in an all-access skills laboratory containing laparoscopic, bronchoscopy and colonoscopy virtual simulators.
Protected education time and conferences. To provide a well-rounded program of hands-on and educational experience, you'll have protected education time every week, basic science pathophysiology lecture series, didactic lectures, morbidity and mortality weekly meetings, as well as monthly Grand Rounds and Journal Club.
A collegial working environment that values teamwork among faculty, residents, nursing and staff. We have a strong Housestaff Leadership Council that supports inter-residency networking and activities with the Family Medicine, Internal Medicine, Physical Medicine and Rehabilitation, Dermatology residencies, as well as the Addiction Medicine, Cardiovascular Disease, Clinical Informatics, Geriatric Medicine,  Hospice and Palliative Medicine and Surgical Critical Care fellowships.