Research Institute at a glance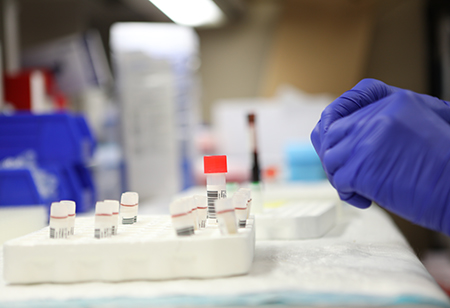 Snapshot
The HonorHealth Research Institute is a collaborative enterprise with 100-plus employees and 300 investigators working toward tomorrow's cures. The institute runs a sustainable, self-supporting operation that benefits patients, the health system and the greater community.
HonorHealth's 200-plus active research studies encompass not only cancer, but also bariatric (weight loss), cardiovascular, gastrointestinal, neurologic/spine, trauma, and translational (personalized) medicine.
With a clinical and translational research focus — applying findings from basic science into medical practice and health outcomes — the emphasis is on precision/personalized medicine.
The Translational Genomics Research Institute (TGen) is a primary scientific partner. The Research Institute also collaborates with major universities, institutes and companies.
In efforts led by Daniel Von Hoff, MD, new cancer drugs and targeted therapy breakthroughs have been, and are being, developed. International recognition for these efforts includes the institute's two designations as a Stand Up To Cancer dream team.
The institute has the capabilities to cover clinical trial and study logistics including:
Strategic planning and evaluation.
Research, finance and grants management.
Pilot projects.
Innovation core development.
Clinical trials support.