Locations and Parking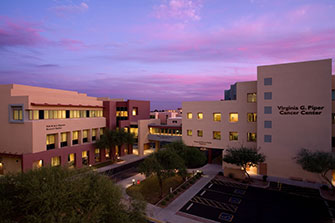 Virginia G. Piper Cancer Center Main Campus
10460 N. 92nd St.
Scottsdale, AZ 85260
The Virginia G. Piper Cancer Center is on the southwest corner of 92nd Street and Shea Boulevard on the Scottsdale Shea Medical Center in Scottsdale, Arizona. The location provides easy access off the 101 Freeway exiting east on Shea Boulevard.
Parking
A convenient, covered parking garage is next to the Virginia G. Piper Cancer Center for patients and their caregivers.
Main Entrance
The main entrance is on the east side of the building, which faces 92nd Street. Volunteers and wheelchairs are available should you need assistance to and from your vehicle.
Checking In
Patient check-in is in the main lobby of the Halle Pavilion.
Additional Locations
Cancer services also are offered at various HonorHealth locations. Please click on the facilities below for specific locations:
Contact Us
For additional information or to speak with a representative at the Virginia G. Piper Cancer Center at HonorHealth, please call 480-323-1000.