Cancer Care
Where Caring Starts, Healing Begins
Facing a cancer diagnosis can stir up a lot of emotions. You may feel scared, overwhelmed and alone. Or you may be past the initial shock and ready to fight — and win — the battle.
Wherever you are in your cancer journey, we're here to help. We'll help you find the answers, explore the best treatment options and get the personal support you need when you need it most.
Advanced Treatment and Technology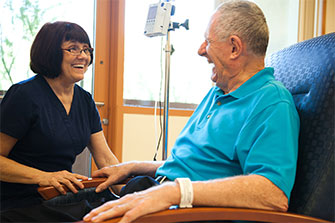 As a leader in cancer treatment in the Southwest, the Virginia G. Piper Cancer Center offers the most advanced treatments and technologies available in a caring, soothing environment. Our expert team treats all types of cancer and delivers a wide range of treatments to meet all your needs, including:
Clinical Trials
Radiation Oncology
Surgical Oncology
Peripheral Stem Cell (Bone Marrow) Transplant
Breast Cancer
The expert physicians, caring nurses and supportive staff at the Virginia G. Piper Cancer Center will work with you to develop a personal treatment plan to battle your cancer. You also have access to groundbreaking clinical trials. Knowing you're in good hands means you can focus on getting better.
Because we're located on the campus of Scottsdale Shea Medical Center, many of our patients who need inpatient cancer services find it convenient to be admitted to that hospital. Inpatient oncology services also are available at other HonorHealth facilities.
Your Journey to Healing
Staff members at the Virginia G. Piper Cancer Center help make your path to healing as easy as possible. From diagnosis to final treatment, your oncology nurse navigator will walk with you each step of the way. The navigator will help you find a specialist, find answers to medical questions, make sense of your treatment plan and help you navigate the healthcare system. Your oncology nurse navigator also will help you find the resources you need beyond diagnosis and treatment through our many patient and family support programs.
For more information about cancer programs and services available at HonorHealth, contact one of our oncology nurse navigators at 480-323-1255.