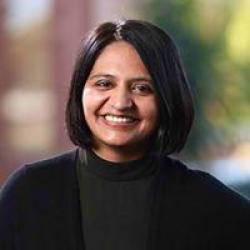 Janhvi Sookram, DO
Languages: English, Gujarati, Hindi
HonorHealth Medical Staff Member
Credentials
Residency

Albert Einstein Medical Center

Education

Des Moines University College of Osteopathic Medicine

Fellowship

Cooper University Hospital / Health System

Internship

Grandview Medical Center

Board Certifications

American Osteopathic Board of Obstetrics & Gynecology
About
The HonorHealth Virginia G. Piper Cancer Care Network gives you access to an elite team of experts across the Valley. The physicians we collaborate with are nationally and internationally recognized.
Dr. Sookram specializes in gynecologic gynecology and utilizes minimally invasive robotic surgery.
She speaks Hindi and Gujarati.
Clinical Interests
Minimally invasive robotic surgery
Ovarian cancer treatment
Endometrial cancer
Cervical cancer
Vulvar and vaginal cancer
Gestational trophoblastic disease
Benign gynecologic conditions
Treatment of ovarian cancer
Care philosophy
Dr. Sookram treats patients with dedicated and compassionate oncologic-focused care. She will establish a treatment plan for each patient that aligns with their personal goals and wishes while ensuring their quality of life, personal and emotional well-being.
Hobbies
Traveling
Reading
Cooking
Hiking
Spending time with her family