Neurologic physical therapy residency
Please note: Current cohort for Neurologic Physical Therapy residency is on hold due to unforeseen circumstances of COVID-19. Application on RF-PTCAS will not be open at this time. Check back for further details regarding the 2021-2022 residency year or email the program director with any questions.
Established in 2011, the HonorHealth/Northern Arizona University Residency in Neurologic Physical Therapy was the first accredited neurological residency program in Arizona through the American Board of Physical Therapy Residency & Fellowship Education.
The Neurological Residency Program was reaccredited in 2019 through January 2029.
The program is a 12-month, full-time program with emphasis on graduating advanced-level specialists in clinical practice and education. The goal is to prepare clinicians to make a lasting contribution to their local and professional community.
Why choose us?
You'll receive weekly one-on-one mentorship from experienced and highly trained board-certified neurological clinical specialists with emphasis on — but not limited to — Parkinson's disease, stroke, and vestibular rehabilitation.
The comprehensive neurologic curriculum is offered through Neurologic Physical Therapy Professional Education Consortium.
You'll listen to 28 webinars from June to December, two four-day onsite modules in Los Angeles in August and November, and online journal club once a week from January to May. This gives you a unique opportunity to learn from experts in the field such as:

Chris Powers, PT, PhD
Walt Weiss, PT, MPT, NCS
Beth Fisher, PT, PhD
Kathleen Ganley, PT, PhD
Terry Ellis, PT, PhD, NCS

You'll also problem solve with residents from around the country.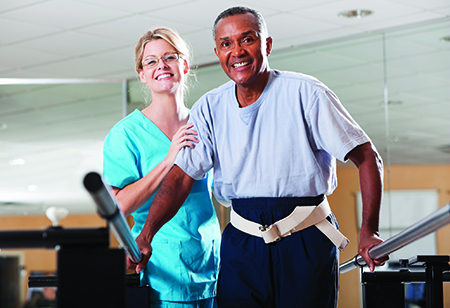 And there are no tuition fees!
You'll serve as a teaching assistant in the Northern Arizona University Physical Therapy Program one day a week for the year in Neurophysiological Therapeutics Lab 1 and 2 with Dr. Kim Gatewood.
The HonorHealth/Northern Arizona University Residency in Neurologic Physical Therapy gives you the opportunity to improve your clinical skills while rotating through three practice settings: outpatient, acute care and acute rehabilitation.
Did you know?
100 percent of residency graduates have passed the neurologic board examination on the first attempt and have become Neurologic Certified Specialists (NCS).
As full-time employees of HonorHealth, the residents are eligible for all of the benefits of employees such as paid time off, health insurance, dental insurance, vision insurance, and discounts on gym memberships.
Residents have access to the hospital library with online full-text articles, article request and librarian-performed literature searches.
There are no tuition or program fees and no employment commitment following completion of the residency program.
Graduate schools
Duke University, AT Still University (2), Mayo School of Health Science, Tennessee State University, Bellarmine University, Emory University, Midwestern University, Loma Linda University, University of Southern California, Northern Arizona University
Current states in which residents live: Arizona, Minnesota, Tennessee, Texas, California
Graduates have gone on to become faculty at local universities, lead physical therapists and faculty in neurological residency programs.
For more information
Tanya Herman Lee, PT, DPT
Board-certified Neurologic Specialist
Director of Neurological Residency
HonorHealth Scottsdale Shea Medical Center
Email Us or call 480-323-3954