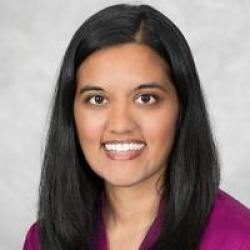 Seema Jain, MD
Languages: English
Credentials
Residency

University of Pittsburgh Medical Center

Education

Ohio State University College of Medicine/Health

Fellowship

University of Texas Southwestern Medical Center

Board Certifications

American Board of Internal Medicine
About
Dr. Jain is the associate director of HonorHealth's North Scottsdale internal medicine residency program. Her focus is on general internal medicine, primary care and preventive medicine, lifestyle medicine, and nutrition.
Outside of Medicine, Dr. Jain enjoys reading, exploring new areas in the southwest, spending time with her husband and her dog, Coco. She also enjoys traveling to visit her friends and family. She is originally from Northeast Ohio.
Care philosophy
My goal as a primary care provider is to walk alongside my patients on their life's journey, investing with them in their health so they can feel well and achieve their health goals.
Hobbies
Reading
Exploring the Southwest
Spending time with my husband and dog Coco
Traveling to visit friends and family