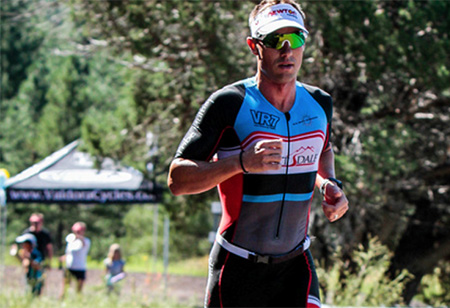 A lifelong athlete, Jason's a veteran of many Ironman and half-Ironman competitions, grueling tests of stamina that involve running, swimming and biking. Until May 2017, he also was a veteran of a badly aching back.
Somewhere along the way – maybe even in high school – the 40-year-old husband and father of three acquired a damaged disk in his lower back. "The rest of my spine is in good health," he said.
At 37, in considerable pain, Jason visited a chiropractor and a pain specialist. Jason received epidurals and participated in physical therapy but didn't get much relief.
Finally, he made an appointment with Luis M. Tumialan, MD, a board-certified neurosurgeon and independent member of the HonorHealth medical staff.
The surgeon and patient ended up with two choices: spinal fusion or an artificial disk. After screening him carefully, Dr. Tumialan recommended an artificial disk made of cobalt chromium and medical-grade plastic.
Will the disk endure?
"I had to determine if the artificial disk would stand up to the punishment Jason will give it, and I decided it would," the neurosurgeon said.
With a fusion, Dr. Tumialan would have connected two vertebrae, fusing them into one unit. It would have relieved Jason's pain, but carried a drawback. Fusion lessens spinal flexibility, which could have hampered Jason's athleticism.
"This guy was in a different stratosphere," Dr. Tumialan said. "He's an elite athlete" – and he wanted to continue to be one. "Patients also tend to bounce back quicker from artificial disk surgery than fusion surgery," he said.
Jason noted that he'd cut back on his training due to the pain before he opted for surgery. "I felt worse the less I trained. And daily activities like emptying the dishwasher or putting on my shoes were difficult. That's when I decided on surgery. I plan on living another 40 to 50 years," he said, "so why be in pain?"
"I had surgery in the morning at Greenbaum (HonorHealth Greenbaum Surgical Specialty Hospital in Scottsdale), and I was up walking that afternoon," Jason said. "Everyone took care of me like I was part of the family. My bikini modeling days are over," he said jokingly of his scar, "but when I stood up for the first time that afternoon, I was an inch taller."
Dr. Tumialan attributes the height gain to Jason's ability to stand tall again post-surgery after years of hunching over to lessen his pain.
Athleticism boosts recovery
Owner of an architecture and construction firm, Jason went back to work the week after surgery for five or six hours a day. "I was willing to put in the effort to recover well," he said, "stretching and doing the prescribed exercises." Four months after surgery, he returned to running three to four miles a day, seven days a week. "Nothing hurt," he said happily.
"I'm now able to do the things I did before," he said in August 2018, training to compete in another Ironman. "The hardest thing coming back from surgery was biking because of the compromised position – it took time for my core muscles to come back. Now, at 40, I'm swimming and running faster than I ever have and couldn't be happier with the decision."
Because the artificial disk is newer technology, used with FDA approval since 2006, its durability isn't proven yet. But both patient and doctor are counting on it to stand up to what Jason dishes out.