It's the heart of fresh blueberry season.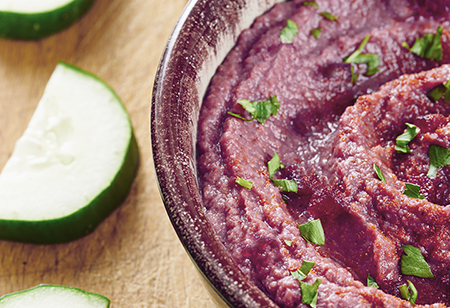 Blueberries rule when it comes to heart and brain health and reducing cancer risk.
This recipe, a twist on traditional hummus, gets its mildly sweet taste and pleasing, chunky texture from blueberries.
It will be a welcomed guest at your summer potlucks and barbecues.
2 cups fresh blueberries
2 cups cooked white beans (if canned, BPA-free, organic, rinsed and drained)
1 teaspoon lemon juice
½ teaspoon kosher or sea salt
Water as needed
100% blueberry juice if needed
Combine all ingredients in food processor.
Puree into a paste.
Add water or blueberry juice as needed to reach desired consistency.
Yield: Approximately 2 cups.
Approximate nutritional breakdown per ¼ cup serving: 74 calories, 3 grams protein, <1 gram fat, 14 grams carbohydrate, 3 grams fiber, 95 milligrams sodium.