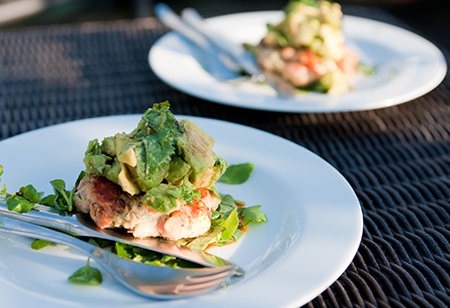 Salmon is high in omega-3 fatty acids, protein, B vitamins and potassium. But here's a secret about the fish you may not know — it can also help you lose weight, and keep it off. Salmon also can help you feel fuller longer and increase your metabolic rate due to its high protein content. Some research even suggests that the omega-3 fats in salmon can help decrease belly fat.
If you're looking for ways to include more salmon in your diet, try this salmon cake recipe from Bebe Brown, a registered dietician at the HonorHealth Bariatric Center.
Ingredients
Salmon cakes
12 ounces wild salmon
1/2 teaspoon olive oil
2 eggs
2 tablespoons Greek yogurt
1/2 bell pepper, finely chopped
1/2 onion, finely chopped
3/4 teaspoon salt
1/2 teaspoon oregano
1/2 teaspoon paprika
1/2 teaspoon cayenne pepper
1/2 teaspoon pepper
3/4 cup cooked quinoa
Avocado salsa
1 avocado, diced
1 tomato, diced
¼ cup red onion, diced
Fresh cilantro
1 teaspoon olive oil
¼ teaspoon salt
¼ teaspoon pepper
Directions:
Preheat oven to 425 degrees.
Drizzle a little bit of olive oil, salt and pepper over the salmon.
Roast salmon until it easily flakes with a fork, about four to six minutes per half-inch thickness of salmon.
Reduce oven temperature to 375 degrees.
Dice salmon and combine all salmon ingredients in a large bowl. Gently form into eight patties and place on a lightly greased baking sheet.
Bake for 10 minutes in 375 degree oven. Broil for last five to seven minutes or until golden brown.
While salmon cakes are cooking, combine ingredients for avocado salsa in a large bowl.
Top each salmon cake with a spoonful of avocado salsa.
Approximate nutritional breakdown per serving
229.8 calories, 24.4 grams protein, 9.2 grams fat, 13.2 grams carbohydrate, 1.3 grams fiber, 754.4 milligrams sodium
Weight loss isn't easy, but you don't have to do it alone. The HonorHealth Bariatric Center offers medically supervised programs to help you lose weight under the supervision of a nurse practitioner. He or she will help you set goals, make diet changes, establish an exercise program and track your progress. Call 480-882-7460 to get started.