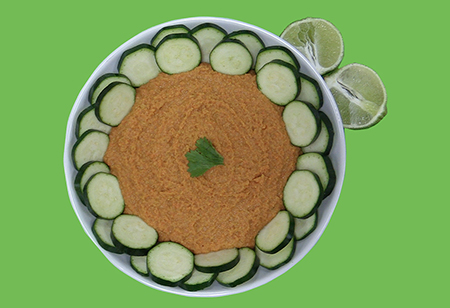 Terri Taylor, a registered dietician with the HonorHealth Virginia G. Piper Cancer Network, offers a colorful, delicious take on carrots.
This anti-inflammatory spread is rich in plant-based carotenoid phytochemicals. Eating foods high in carotenoids is associated with lower cancer risk as well as supporting immune function.
Ingredients
3 cups sliced carrots
¾ cup chopped onions
3 cloves garlic, minced
2 tablespoons olive oil
1 tablespoon curry powder or turmeric
1 teaspoon ground cumin
1 (15-ounce) BPA –free can cannellini beans, rinsed and drained
Preparation
Steam carrots until soft and tender.
In small skillet, cook onions and garlic in hot oil until tender. Stir in curry powder and cumin.
Transfer carrots and onion mixture to food processor. Add beans.
Cover and process until smooth. Add small amount of water to slightly thin mixture while processing. Cover. Chill four hours up to four days.
Serve on cucumber slices, with raw vegetables or on whole grain crackers or whole grain pita.
Yield: 3 cups
Approximate nutritional breakdown per 1/3 cup serving: 71 calories, 2 grams protein, 3 grams fat, 9 grams carbohydrate, 2.5 grams fiber, 33 milligrams sodium.