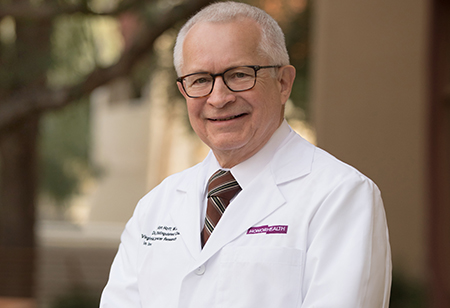 HonorHealth Foundation proudly announces that Daniel D. Von Hoff, MD, chief scientific officer of the HonorHealth Research Institute, has been named the Virginia G. Piper distinguished chair in innovative cancer research.
The honor represents the first-ever endowed chair at HonorHealth. It was made possible by a $3 million grant from the Virginia G. Piper Charitable Trust, a longtime supporter of HonorHealth.
"HonorHealth serves our community with exemplary expertise and innovation in healthcare and medical research which has the potential to inform and advance health outcomes. We are fortunate to have this caliber of scientific discovery and treatment in Maricopa County," says Susan M. Pepin, MD, MPH, president and CEO of Virginia G. Piper Charitable Trust.
"I am very honored," says Dr. Von Hoff. "The endowed chair enables us to continue the innovative research that brings the finest cancer care to our patients and community."
Having an endowed chair—which is universally recognized as one of the highest tributes that can be bestowed on an accomplished physician-scientist—helps to:
Attract future leaders and top medical talent in cancer research.
Advance medical knowledge and the discovery of new treatments that can save lives.
Build and attract collaborations with leading academic institutions.
Create the next generation of drug developers and cancer investigators.
"We are so grateful to the Virginia G. Piper Charitable Trust. They have not only honored Dr. Von Hoff, whose work has improved, extended and saved the lives of countless patients, but also paved the way for future cancer visionaries who will follow in his footsteps. Establishing this endowed chair further solidifies HonorHealth as a leader in cancer research, where leading-edge discoveries are made to benefit patients in our community and beyond," says HonorHealth CEO Todd LaPorte.
Learn more about the HonorHealth Research Institute and the HonorHealth Foundation.