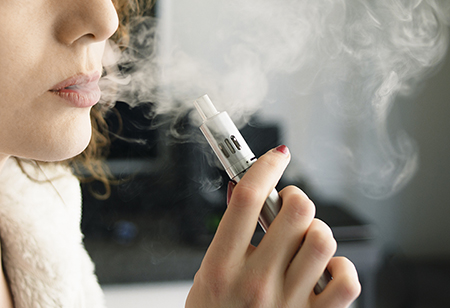 Being a quitter gets a bad rap. But, if you're an e-cigarette user (the e stands for electronic), quitting is probably a good thing.
While traditional cigarette smoking has declined in recent years, "vaping" using e-cigarettes has skyrocketed. E-cigarettes are marketed as a "healthy" alternative to traditional cigarettes. While they may be healthier in some aspects, calling them healthy is a stretch. As Jeannine Hinds, MD, a family medicine doctor at HonorHealth Medical Group explains, e-cigarettes actually carry many of the same risks:
E-cigarettes are addictive. Almost all e-cigarettes contain nicotine, a substance as addictive as heroin or cocaine, regardless of the way you use it. Similar to traditional smoking, the ritual of vaping involves a comfort factor. This combination of nicotine and ritual leads to a powerful physical and psychological addiction that's difficult to break.
E-cigarettes can cause heart disease. In addition to being addictive, nicotine is a powerful stimulant that has been linked to heart disease and other cardiovascular problems.
E-cigarettes contain cancer-causing chemicals. Several chemicals thought to be cancer-causing agents, including formaldehyde and acetaldehyde, are found in e-cigarettes.
E-cigarettes probably won't help you quit smoking. Many people use e-cigarettes as a mechanism to help them quit smoking. However, studies have found that e-cigarettes have no effect on a smoker's ability to quit. Some research even suggests that teens who use e-cigarettes are more likely to start smoking traditional cigarettes later in life.
"I encourage anyone who uses tobacco or nicotine in any form to think hard about giving it up," Dr. Hinds said. "I see patients every day in my practice who have diseases caused by tobacco use."
Quitting isn't easy, and you may have to try several methods before you find one that works for you. Contact your HonorHealth primary care doctor to answer your questions about quitting or call 623-580-5800 to find a doctor who can.