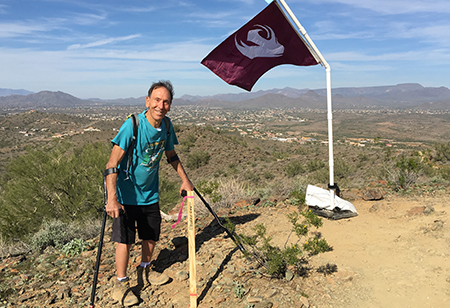 Although he's still recovering from a devastating moped accident in Thailand two years ago, a 71-year-old Phoenix resident is more active physically than many people half his age, thanks to some critical help from HonorHealth Rehabilitation Hospital in Scottsdale.
Originally from the United Kingdom, David has lived in Phoenix for 15 years. On the morning of March 20, 2017, while vacationing in Thailand, lifelong hiker and mountain biker was riding a moped, traveling behind two pickup trucks.
"Suddenly, the trucks braked without warning, and I couldn't get out of the way in time. So I braked hard, but both wheels locked up, and I fell," David said. "I hit my head — hard — on the pavement. Even though I was wearing a helmet, I lost consciousness. When I came to a couple of minutes later, I discovered I couldn't move my legs."
Before his accident David was an ultra-marathoner, someone who runs more than 26.2 miles in a race.
"The shortest distance we ran was 31.1 miles on mountain trails," he said.
Today, just two years after his accident, he has a nearly four-mile climb to the summit of a mountain in the rearview mirror. And he's looking forward to achieving his next goal: making that same climb without crutches.
So how was someone in his 60s, who crashed his moped in traffic in a foreign country, able to climb a mountain just 20 months later?
David offers three words: HonorHealth Rehabilitation Hospital.
Survival first
Immediately after being injured, he spent 11 days in the intensive care unit of a hospital in Udonthani, a city northeast of Bangkok. "The neurologist treating me told me I'd probably never walk again," David said.
After those 11 days, his wife accompanied him home to Phoenix aboard a commercial airliner. He used a reclining chair in business class.
He spent the next three days at HonorHealth Scottsdale Osborn Medical Center. He then was transferred to HonorHealth Rehabilitation Hospital in Scottsdale, where he spent the next month. Many patients from HonorHealth acute-care hospitals rely on the rehab facility to help them recover after stroke, trauma or other injuries.
Without the Rehabilitation Hospital, "I'd be in an electric wheelchair," David said.
In addition to excellent clinical care and physical therapy he received several times each day, he said he got "tremendous encouragement there. Every day they woke me up with a nice breakfast and then worked with me to help me regain my strength, offering positive reinforcement through every minute of my therapy. They were certainly pushing me to work as hard as I could, but it was a lot more 'carrot' than 'stick,'" he said. "No one set a limit for me; they let me try as hard as I wanted to."
Learning to walk again
David was so determined to recover fully that when it came time to run timed wheelchair races with other patients, one therapist told him to slow down to conserve energy. Gradually, he learned to stand again and take tentative steps with the help of a walker and assistance from two people who helped keep him upright.
"Despite David's limited prognosis, he refused to let it stand in his way of achieving his goals. It's important not to take a patient's hope away when they're working hard to achieve the goals they set for themselves," said Veronica Nieto, a physical therapist at the Rehab Hospital.
He was finally ready to be discharged from HonorHealth Rehabilitation Hospital in May 2017. He continued with outpatient physical therapy and was devoted to his dream to hike again. After about three months in outpatient physical therapy, David was able to use a walker without any additional assistance. By December 2017, he began using crutches.
On Nov. 11, 2018, he was able to realize his dream. In six hours, without sitting down even once, he ascended Ridgeback Mountain in Apache Wash in far north Phoenix, using his crutches for stability. He prepared for a climb to the top by hiking a couple of times a week.
"The biggest, most difficult climb in that trailhead is Ridgeback," he said. "It has quite a steep gain in altitude."
Using his crutches during the entire climb, he got plenty of encouragement from other climbers ascending to the peak.
Balance remains an issue
Today, David still hikes once a week, and he visits the gym to walk on a treadmill. He struggles with balancing well, but he's walking with only a cane now. He uses a motorized, recumbent tricycle to help him navigate hills when he hikes.
His next goal is to ascend to the top of Ridgeback Mountain again but with only a cane, not crutches.
"I just want to keep strengthening my legs, so maybe eventually I can use only hiking poles to climb that mountain."
David's advice to everyone who "graduates" from HonorHealth Rehab Hospital?
"Keep going, continue to build on the strengths gained in rehab and follow your dream."