In September 2020, HonorHealth will add its sixth medical center, the Sonoran Crossing Medical Center, to its health system. Located at Interstate 17 and Dove Valley Road in north Phoenix, the three-story, 210,000-square-foot facility will be built on the campus that currently houses the Sonoran Health and Emergency Center. Groundbreaking took place Dec. 5, 2018.
The hospital will be designed as a comfortable and inviting space for patients. Filled with natural light and colors reflecting the surrounding desert, the hospital will provide:
40 inpatient beds with the ability to expand as needs for services increase.
Comprehensive obstetrical and gynecological care, including prenatal and postpartum care, labor and delivery services, and a Level II neonatal intensive care unit.
Surgical services with state-of-the-art technology and clinical expertise in joint replacement and minimally invasive orthopedic, spine and general surgery procedures, treatments and therapies.
24-hour emergency care for patients of all ages with staffing from residency-trained, board-certified emergency physicians using the latest technologies and treatments.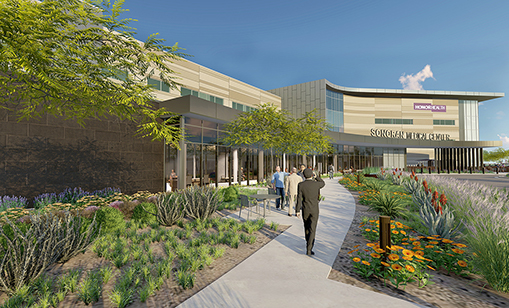 "Building on a century-long legacy of caring for our community, the HonorHealth Sonoran Crossing Medical Center will provide enhanced medical services — including labor and delivery — to residents of north Phoenix," said Kim Post, HonorHealth CEO-hospitals and chief clinical officer. "The new hospital represents HonorHealth's commitment to improve the health and well-being of patients in the fast-growing communities of north Phoenix and Anthem. We'll provide comprehensive care that's close to home."
The existing Sonoran Health and Emergency Center, which serves 17,000 patients annually, will become an outpatient center that includes a Breast Health Center, medical imaging services and space for future expansion.
A new ambulatory surgery center on the campus will offer cost-effective, same-day surgical services and will house obstetric, pediatric, orthopedic and general surgery physician offices.
The HonorHealth Sonoran Crossing Medical Center represents an investment of $170 million.