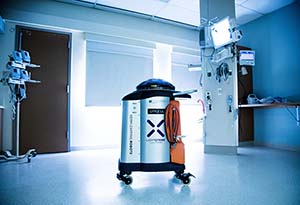 Robots aren't just for movies and television shows anymore. At HonorHealth they're for something far more important—helping to save lives.
HonorHealth now has over 30 germ-zapping robots made possible entirely by generous donors. Using high-intensity ultraviolet light, the small but mighty robots disinfect a patient room in just minutes, reaching areas that can be hard to disinfect. Delivered in millisecond pulses, the light is hundreds of times more intense than sunlight.
The robot successfully kills germs — including bacteria, viruses, bacterial spores, even antibiotic-resistant superbugs — that may survive the manual cleaning process.
"You can imagine how hard it is to wipe down every nook and crevice in a room. Think of the telephone, cords, bed rails and other things. The advantage of the robot is that its germ-zapping light penetrates the entire area," says Stephanie Jackson, MD, HonorHealth senior vice president and chief quality officer.
The robot was first used in HonorHealth's unit for patients with blood cancers at Scottsdale Shea Medical Center. This specialized unit cares for individuals who are among the sickest and most vulnerable of HonorHealth's patients — those with leukemia, lymphoma and other blood cancers. Because of their treatment, these patients have significantly compromised immune systems—leaving them vulnerable to infections.
With the success of the initial program, HonorHealth Foundation is launching a campaign to raise $1.25 million in philanthropic funding for 10 additional robots to expand their use throughout HonorHealth.
"This technology will help HonorHealth excel at preventing infections while patients are hospitalized. Some patients, like our bone marrow transplant patients, have compromised immune systems. Our elderly patients often have multiple illnesses and are more susceptible to infections. Patients can have open surgical wounds, tubes or drains that are portals for germs to get in. This is why it's so critical that HonorHealth does everything possible to provide the cleanest, safest rooms," says Dr. Jackson.