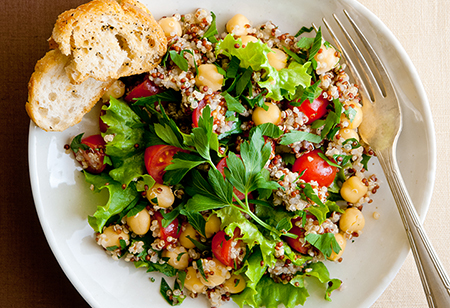 Farmers markets, community-sponsored agriculture boxes and your own garden offer a bounty of local and seasonal produce. This entrée salad uses seasonal arugula, cucumbers, peppers and basil.
Ingredients:
1 can chickpeas (15-ounces, BPA-free), drained
1 ½ teaspoons olive oil
¼ teaspoon paprika
¼ teaspoon ground coriander
¼ teaspoon curry powder
1/3 cup extra virgin olive oil
Juice of 1 large lemon
1 teaspoon Dijon mustard
Salt and black pepper to taste
2 cups cooked quinoa
3 cups arugula
½ cup diced cucumbers
½ cup red peppers, chopped
1/3 cup pitted Kalamata olives, sliced
¼ cup fresh basil, slivered
Roast the chickpeas:
Preheat oven to 400◦F.
Drain chickpeas in a colander. Rinse under running water. Pat very dry with paper towels.
Mix 1 ½ teaspoons olive oil, paprika, coriander and curry powder in large bowl. Add chickpeas. Toss to coat.
Spread chickpeas in an even layer on a baking sheet.
Bake in the oven for 20 to 30 minutes, stirring or shaking the pan every 10 minutes, until browned and crisp. Set aside.
Dressing:
In a small bowl, whisk together 1/3 cup extra virgin olive oil, lemon juice, honey and mustard to make dressing.
Season as desired with salt and black pepper.
In a large serving bowl:
Add quinoa, arugula, cucumbers, red peppers, olives and roasted chickpeas.
Drizzle with dressing. Garnish with basil.
Yield: 4 servings
Approximate nutritional breakdown per serving: 331 calories, 11 grams protein, 15 grams fat, 38 grams carbohydrate, 7 grams fiber, 201 milligrams sodium