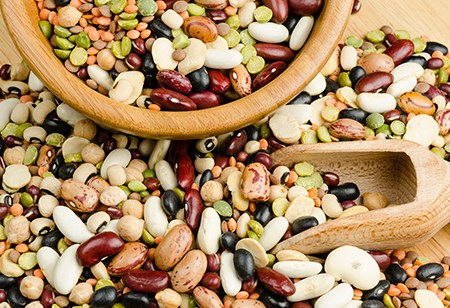 2016 is the International Year of the Pulses. Pulses are dried beans, lentils and black-eyed peas. They're rich sources of protein, fiber and iron, yet they're low in fat.
This hearty and flavorful stew brings pulses to the forefront of your meal. Eating more meatless meals is associated with a lower risk of cancer and heart disease.
Ingredients:
1 teaspoon extra virgin olive oil
1 ½ teaspoons cumin seeds
2 teaspoons cinnamon
1 ½ teaspoons coriander
½ teaspoon turmeric
1 teaspoon fennel seeds
1 teaspoon dried basil
1 teaspoon salt
¼ teaspoon cayenne pepper
1 large onion, chopped
4 cloves garlic, minced
3 cups peeled and diced sweet potatoes
1 can white beans (15 ounces, BPA-free), drained
1 can black beans (15 ounces, BPA-free), drained
1 cup dried red lentils
4 cups vegetable broth (low-sodium organic or homemade preferred)
2 Tablespoons fresh ginger, grated
Salt and black pepper to taste
Instructions:
In a large pot, over medium heat, combine oil with spices, salt and cayenne pepper. Cook for a few minutes, until fragrant.
Add onions, garlic and sweet potatoes. Stir, cover and cook for five minutes, stirring occasionally until vegetables start to soften.
Add beans, lentils and broth. Bring to a boil.
Lower heat to a simmer. Cover and cook for 20 minutes, until lentils are soft. Add more water if needed.
Add ginger. Season to taste with salt and black pepper.
Yield: 10 servings
Approximate nutritional breakdown per serving: 177 calories, 10 grams protein, 1 gram fat, 32 grams carbohydrate, 10 grams fiber, 325 milligrams sodium