In her personal life, Susan, 47, has an intriguing way of dealing with her feelings. "I give myself five minutes of emotion," she said. "I feel it for five minutes, and then I'm done." She doesn't claim it's for everyone, but it works for her.
In her professional life, she counsels mentally ill individuals and their families almost every day. "I hold hope for those who can't do it for themselves," she said. "I serve as a bridge between patients and the clinical team," helping patients connect to professional and peer services that can help them live a better life.
She recently graduated from Arizona State University with a bachelor's in sociology and a minor in psychology. She's working on her master's in curriculum development and instruction with an emphasis on applied behavior analysis.
Hiding in plain sight
Meanwhile, Susan has been dealing with a health crisis — one that she discovered is in her genes.
The fifth of six siblings, Susan lost her mother at age 63 to colon and brain stem cancer. Her sister also died of lung and colon cancer, and her brother received a stage 4 colon cancer diagnosis.
Alarmed by the incidence of colon cancer in her family, Susan had colonoscopies over two years that resulted in the removal of 77 noncancerous polyps. Many were the size of golf balls.
Based on all this history, Susan decided to undergo genetic testing at HonorHealth Cancer Care. Saliva samples were sent off for DNA testing, which confirmed that Susan has a genetic mutation that resulted in her being diagnosed with familial adenomatous polyposis. Without treatment, this condition meant her risk of colon cancer was 100%. The colon fills with polyps that eventually become cancerous. The treatment seems drastic, but it's effective — removal of the colon. 
Mutation in every cell of her body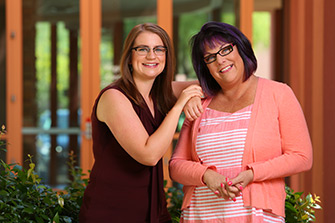 Susan was told that although 90% of cancer is environmental, 10% is hereditary, she told Susan. Essentially, if you're born with a hereditary predisposition to cancer, you have a mutation in every cell of your body and are more likely to get cancer.
Susan's deceased mother appeared to be the carrier of the genetic disorder. The average age of cancer for someone with the disease is 39. Doctors recommend those with familial adenomatous polyposis have their colons removed in their 20s. So far, Susan had beaten the odds, but she knew she had to act.
Alerting her family
In between making doctor appointments, Susan advised her surviving siblings to be tested. "I was the first one in the family to catch the disease before it became cancerous," she said. Eventually, she learned that each of her siblings — each with a 50/50 chance — had inherited the disease. Their children now are being tested.
Susan's son, John, 27, serves in the Navy and has four children, three of them triplets. A DNA test revealed that John has the gene mutation, too.
"He took it like a champ; he's very logical," Susan said. "But it was so much harder receiving his news than it was mine. For me, it was almost exciting to learn about familial adenomatous polyposis and even to go through the surgeries. I'm glad I was strong enough to do it, but I've learned that it's tougher when it's your loved ones going through it."
Three months after Susan's genetic testing, Andrew Kassir, MD, a colorectal surgeon and independent member of the HonorHealth Medical Staff, removed Susan's colon. He also readied her small intestine to take on the task of the colon in a few months.
"I was able to use robotic surgery, which meant no major incisions for Susan," Dr. Kassir said. "I used five smaller incisions. The pathology report showed 27 precancerous polyps in her colon. They would have become cancerous eventually; no one knows when. With the colon removed, her prognosis is good."
The subsequent ileostomy reversal surgery, accompanied by the final connection for the small intestine's new duties, required four weeks' recovery. "I learned that healing is challenging — harder than I expected," Susan said of her surgeries. "But my care at HonorHealth Scottsdale Shea Medical Center was amazing. The nurses took really good care of me."
She's relieved that her major surgeries and recoveries are behind her. She knows she's at increased risk of other cancers due to her genetic disorder, so she'll be vigilant. But she's ready to support other family members shouldering the same challenges to overcome their genetics.
Throughout the process, she plans to use her five minutes to feel her emotions — and then move on.