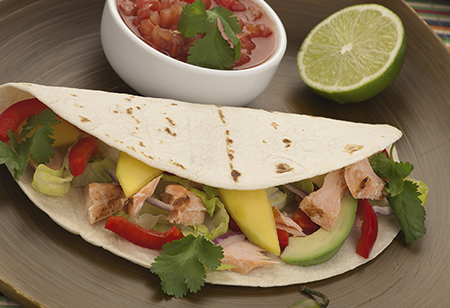 Celebrate Cinco de Mayo while protecting your skin from cancer.
The Mediterranean foods in this recipe are thought to repair skin damage caused by ultraviolet rays and free radicals.
Wear your hat, sunscreen and eat skin protective foods to be sun safe.
Salsa:
2 cups red and yellow cherry tomatoes, quartered
½ organic english cucumber, finely chopped
4 green onions, thinly sliced
3 Tablespoons fresh cilantro, chopped
½ small jalapeno pepper, finely diced
Juice of 1 lime
Dash of sea salt
Salmon:
1 Tablespoon smoked paprika
1 Tablespoon cumin
1 teaspoon chipotle chile powder
½ teaspoon sea salt
12 ounces wild alaskan salmon, in fillets
8 (6-inch each) corn tortillas
1 cup shredded brussels sprouts
Lime slices
Preheat oven to 400 degrees Fahrenheit.
Make the salsa: In a mixing bowl, combine tomatoes, cucumber, onions, cilantro, jalapeno and lime juice.
Season to taste with sea salt. Set aside until ready for use.
Prepare the salmon:
Combine paprika, cumin, chile powder and sea salt to make the rub.
Generously season salmon with the rub.
Lightly grease medium baking dish.
Place salmon fillets inside, skin down.
Roast for about 10-15 minutes, until salmon is cooked through, but not dry.
Remove salmon from heat. Set aside to cool for a few minutes.
Flake salmon with a fork.
Fill each tortilla with flaked salmon, followed by salsa and shredded brussels sprouts.
Garnish with lime.
Yield: 4 servings (2 tacos per serving)
Approximate nutritional breakdown per 2 tacos:
229 calories, 21 grams protein, 5 grams fat, 25 grams carbohydrate, 5 grams fiber, 388 milligrams sodium