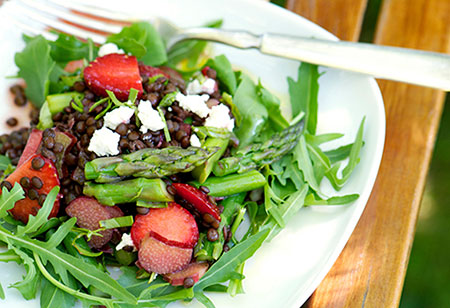 Bring the taste and nutrition of Arizona's local Spring produce to your table with this salad.
It is loaded with disease preventing phytochemicals. Arugula and radishes are members of the powerful cabbage-family vegetables. What better time to take an outing to the Farmers' Market?
12 stalks Asparagus, chopped.
4 cups Arugula.
1 head Bibb or Boston lettuce, roughly chopped.
¾ cup chopped celery (organic preferred).
1 cup thinly sliced radishes.
¾ cup green peas.
1 cup sliced strawberries (organic preferred).
Juice of 2 lemons.
1 tablespoon lemon zest.
2 tablespoons tahini.
2 tablespoons apple cider vinegar.
2 tablespoons extra virgin olive oil.
1 shallot, thinly sliced.
Sea salt and black pepper to taste.
Optional protein if entrée salad: 2 cups cooked chickpeas, lentils or quinoa or 4 ounces organic tofu or 3 tablespoons hemp seeds.
Lightly steam chopped asparagus.
In large bowl, combine asparagus, arugula, lettuce, celery, radishes, peas and strawberries.
To make dressing: in small bowl, whisk together lemon juice and zest, tahini, vinegar, oil and shallot.
Season dressing to taste with sea salt and pepper.
Pour dressing over salad. Mix until evenly distributed.
Keep dressing separate if serving later.
Add optional protein if serving as an entrée salad.
Yield: 4 servings.
Approximate nutritional breakdown per serving (without protein choices): 171 calories, 5 grams protein, 11 grams fat, 13 grams carbohydrate, 6 grams fiber, 90 milligrams sodium.