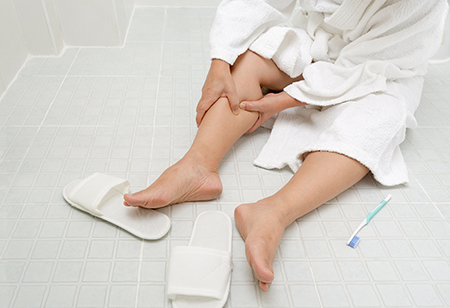 Falls were the leading cause of traumatic injury in Arizona in 2016, according to the 2017 Arizona State Trauma Advisory Board Report. In fact, more than a third of all traumatic injuries in Arizona happened because of a fall. While you can never completely avoid a fall from happening, you can control the impact they have on your life and your future quality of life. Shannon Dunn, trauma injury prevention/trauma outreach coordinator with HonorHealth, shares three tips to help you keep the spring in your step:
1) Exercise
Your bones can rebuild themselves when you apply weight to them. This means the simple act of walking can help strength the bones in your legs, helping them withstand breaking better. Walking also strengthens muscles and helps keep nerve pathways active. This helps your reaction time to help turn a fall into a stumble.
2) Assess your home
Walk through your home and identify areas that could pose a fall hazard, and then take steps to make changes if you can. Shannon suggests the following:
Look at tripping hazards on your floors. Consider removing throw rugs and cords, and if you have broken or loose tiles, get those fixed.
In the bathroom, consider installing grab bars for your shower.
Make sure you have good lighting throughout your living areas. Switches should be close by and easy to reach, especially in the bedroom and bathrooms.
3) Understand your medication's impact on your balance
Be familiar with your medication and be sure your primary care physician and pharmacist are aware of all your medications. It is important to review them regularly, or when a new medication is added to your regimen. This can be done with your pharmacist during business hours. Many medications can increase the potential for falling. They can cause dizziness and balance issues. Remember to go slowly when transitioning from laying down to standing. It is a good idea to take a few moments to sit on the side of the bed before standing.