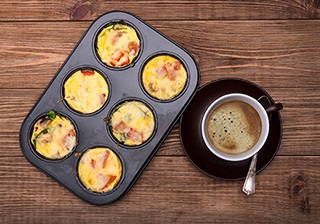 It sounds so easy: If you want to lose weight, don't eat too much. You may find that limiting portion size is easier said than done. Looks can be deceiving, and a correct portion size is often smaller than you think. Unless you're painstakingly measuring out all the food that you eat, it's difficult to get your portion size right.
Marin Clemson, a registered dietician with the HonorHealth Bariatric Center, has a solution: Create individually portioned food as you're cooking. Her recipe for veggie egg muffin cups is healthy, tasty and pre-portioned. It's a win-win-win!
Ingredients
1 tablespoon olive oil
1 cup red bell pepper
1 cup green bell pepper
1 cup yellow onion
2 cups baby spinach
1 cup mushrooms
1 cup black beans, drained
2 cloves garlic, minced
Salt to taste
4 whole eggs
4 egg whites
Hot sauce (optional)
Directions
Preheat oven to 350 degrees F.)
Grease a standard 12-slot muffin pan with cooking spray and set aside.)
Heat a large nonstick skillet over medium heat. Once hot, add oil, red pepper, green pepper and onion. Sauté 5-7 minutes, or until peppers are tender. Add spinach, beans and mushrooms and cook for an additional 2 minutes. In the last 30 seconds, add in minced garlic. Season with salt and remove from heat.)
Crack eggs and egg whites into a large bowl and whisk together. Stir in cooked veggies.)
Pour the egg and veggie mixture evenly into the prepared muffin pan. Bake for 15 minutes or until the tops are firm to the touch and eggs are cooked.)
Cool slightly and serve immediately; drizzle with hot sauce if desired. Leftovers can be stored in an airtight container in the fridge for about 4 days.)

Approximate nutritional breakdown per serving

Serving size: 2 egg muffins
158 calories, 11 grams protein, 7 grams fat, 12 grams carbohydrate, 1.3 grams fiber, 177 milligrams sodium

Weight loss isn't easy, but you don't have to do it alone. The HonorHealth Bariatric Center offers medically supervised programs to help you lose weight under the supervision of a nurse practitioner. He or she will help you set goals, make diet changes, establish an exercise program and track your progress. Call 480-882-7460to get started.