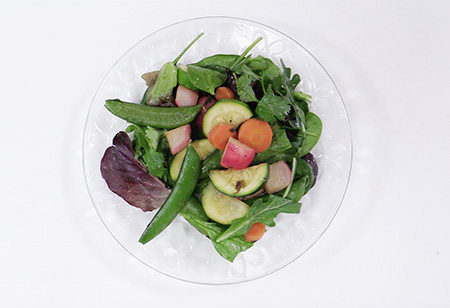 The spring produce in Arizona never tasted better! Are you looking for a way to use all of those plentiful, local and seasonal greens? Give this recipe a try! It is high in flavor and fiber and low in fat. It's a nice change from traditional cold lettuce salads.
Ingredients
1 teaspoon olive oil
2 green onions, sliced
1 garlic clove, finely chopped
¾ cup zucchini or yellow squash, sliced
½ cup carrots, sliced
¾ cup sugar snap peas
½ cup radishes, quartered
¼ teaspoon salt
¼ teaspoon pepper
½ teaspoon dried or fresh dill or herbs of choice
1 tablespoon fresh lemon juice
4 cups salad greens
Preparation
Thoroughly wash all vegetables.
Heat oil in skillet on medium heat.
Cook onions for one minute.
Add garlic. Cook for another minute.
Stir in zucchini and carrots.
Cover, reduce heat to low, and cook until almost tender, about three minutes.
If vegetables start to brown, add a tablespoon or two of water.
Add snap peas, radishes, salt, pepper and dill.
Cook, stirring often, until just tender, about four minutes.
Remove from heat. Allow to cool slightly. Toss with salad greens and fresh lemon juice.
Yield: 4 side servings
Approximate nutritional breakdown per serving:
140 calories, 4 grams protein, 1.5 grams fat, 28 grams carbohydrate 4 grams fiber, 190 milligrams sodium.