Construction begins on HonorHealth's sixth hospital
On Dec. 5, 2018, HonorHealth and community leaders celebrated the start of construction for the HonorHealth Sonoran Medical Center with a groundbreaking ceremony. The new hospital will be the centerpiece of a healthcare campus at Interstate 17 and Dove Valley Road in north Phoenix.
HonorHealth's sixth hospital, the three-story facility is slated to open in fall of 2020 with 40 beds and room to expand as the surrounding community continues to grow.
Before the groundbreaking took place outside, HonorHealth CEO Todd LaPorte addressed a group of about 80 in the second-floor community room at the Sonoran Health and Emergency Center. It opened five years ago on the campus. Also speaking at the event were Bill Gates, a Maricopa County supervisor, and Jim Waring, vice mayor of Phoenix.
Take a look at a live shot of construction progress on the site.
Facts and figures about the new inpatient hospital:
• 40 beds with the ability to expand in the future as the needs for services increase.
• Three stories filled with natural light and colors reflective of the surrounding desert.
• 24-hour emergency care: For patients of all ages and staffed by residency-trained, board-certified emergency physicians using state-of-the-art technology and treatments.
• Women's services: Comprehensive obstetrical and gynecological care including prenatal and postpartum care, labor and delivery services as well as a Level II neonatal intensive care unit.
• Surgical services: State-of-the-art technology, compassion and clinical expertise in joint replacement and minimally invasive orthopedic, spine and general surgery procedures, treatments and therapies.
Sonoran Medical Center Address
HonorHealth Sonoran Medical Center
33400 North 32nd Ave
Phoenix AZ 85085

Outpatient Center
The existing Sonoran Health and Emergency Center will become an outpatient center that includes a Breast Health Center, medical imaging services and space for future expansion.

---
A new ambulatory center on the campus will offer:
• An outpatient ambulatory surgery center.
• Obstetric, pediatric, orthopedic and general surgery physician offices.
• Additional capacity for future health and wellness needs.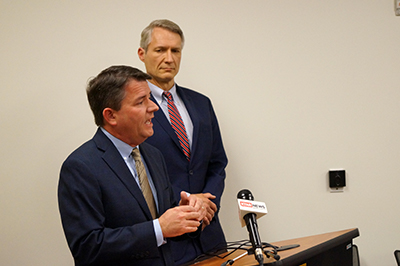 Maricopa County Supervisor Bill Gates addresses those attending the Sonoran Medical Center groundbreaking, with Phoenix Vice Mayor Jim Waring looking on.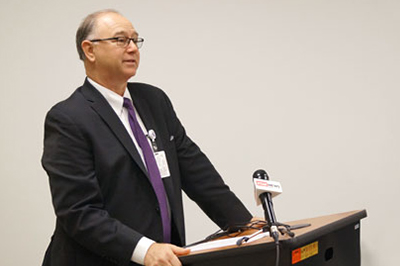 Todd LaPorte, HonorHealth CEO
Preston Allred, HonorHealth Director of Strategic Projects-Regional
Bill Gates, Maricopa County Supervisor
Jim Waring, Vice Mayor of Phoenix
Todd LaPorte, HonorHealth CEO
Kim Post, HonorHealth Senior Vice President and CEO Hospitals & Chief Clinical Officer
David Price, CEO HonorHealth Thompson Peak and Deer Valley Medical Centers
Jared Langkilde, President and CEO, HonorHealth Foundation