HonorHealth radiologists and other physicians use sophisticated imaging technologies to better diagnose and treat diseases or injuries.
While the medical imaging equipment may be high-tech, it's the people who make the difference in your care, from the board-certified radiologists to the knowledgeable and caring technologists and nurses on staff.
Imaging services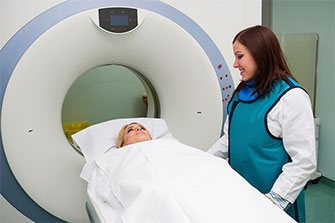 CT scan: A test that produces cross-sectional images of the body using X-rays and a computer.
Endoscopic ultrasound: A medical imaging procedure that uses a small ultrasound device and camera on the tip of an endoscope inserted into the upper or lower digestive tract. This technique allows a specialist to get close to the organ being examined, including the lungs and pancreas, producing accurate, detailed images to help with a diagnosis. The procedure also can used to take biopsies (tissue samples).
MRI: This test uses a magnetic field and radio waves to create detailed images of organs and tissues in your body.
Nuclear medicine: A branch of medical imaging that uses small amounts of radioactive material administered from different parts of the body. Nuclear medicine is used to diagnose and determine the severity of a variety of diseases and also can be used to treat them.
Pediatric imaging services: Low-dose X-ray machines are used to detect fractures and disease in children.
PET Imaging: This nuclear medicine imaging technique produces a three-dimensional image of functional processes in the body by using small amounts of ionized radioactive materials. The technique is most commonly used to diagnose types of cancers.
Picture Archiving Communications System (PACS): This system makes your medical images available to your physicians anywhere in the network.
X-ray: This imaging technique is a type of electromagnetic radiation that allows dense materials such as bones to appear white.
---
Understanding the radiology experience
What is radiology? Radiology is where medical imaging tests are done, including: X-rays, CT scans, MRI scans, Sonograms (also known as "ultrasounds"). Most tests are painless and require you to be still during the procedure so the technician gets clear images.
Waiting
It's not unusual to experience a wait time in radiology. Every day, there's a large number of patients in need of tests from throughout the hospital. Because of the constant change in demand for tests, it's difficult to give you an exact wait time. Please know that you haven't been forgotten. Your health and comfort are important and we're doing everything possible to reduce your wait.
Common questions
What happens before testing?
If you feel like you've beenwaiting too long, please let a staff member know. You'll receive updates as we receive them, but don't hesitate to check in if you're concerned.
What if I'm uncomfortable or feel worse?
Your comfort is important to us. We want you to be as comfortable as possible. If you need a blanket or your situation has changed since you first arrived, please let a staff member know.
Can I eat or drink?
It's important to avoid eating or drinking anything prior to your test. Depending on your condition and necessary procedure(s), you may need to fast beforehand. If you eat or drink, you'll have to wait longer before receiving the care you need.
Prepping
While you wait, please do the following to minimize waiting time:
Change into a gown, removing all clothing
Remove jewelry, watches and other metal accessories
Remove hearing aids
Common questions
Where should I leave my clothes and belongings?
To avoid misplacing your personal belongings and clothing, please leave them on your bed and do not bring them with you to radiology. NOTE: DOUBLE CHECK WHERE TO LEAVE.
What if I'm pregnant?
Women may be asked if they're pregnant prior to testing. If you're pregnant or think you might be, please let a staff member know right away.
Next steps
A staff member will bring you back to the emergency room while a physician reviews your results. As soon as your physician has completed the review, you'll receive an update and instructions on next steps. If your diagnosis doesn't require observation, you'll receive instructions for care outside of the hospital and you'll be discharged. If your diagnosis does not require observation, you will receive instructions for after-visit care and be discharged. In some cases, your doctor will want you to stay for observation or be admitted.
---
Medical imaging locations