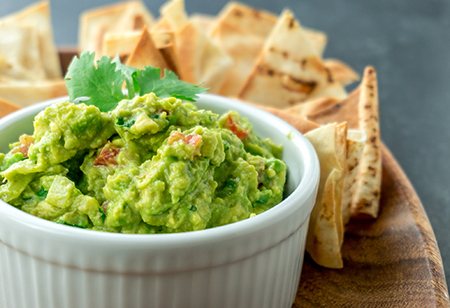 Terri Taylor, a registered dietician with the HonorHealth Virginia G. Piper Cancer Network, shows you how to lighten up a family favorite.
Lite broccamole puts a new twist on traditional guacamole. By replacing part of the avocado with broccoli, you lower the fat and calories and increase the fiber. It's a great way to increase your daily vegetable intake.
Ingredients
1 large head broccoli
1 avocado, peeled and pitted
2 tablespoons minced red onion
½ to 1 cup chopped tomatoes
4 cloves garlic, minced
2 tablespoons lime juice
1 tablespoon hot pepper sauce
2 tablespoons chopped fresh cilantro
Salt to taste
Preparation
Steam broccoli until very soft.
In a large bowl, mash broccoli with avocado.
Mix in onions, tomatoes, garlic, lime juice, hot pepper sauce and cilantro until mixture resembles the consistency of mashed potatoes.
Season to taste with salt.
Yield: 16 servings
Approximate nutritional breakdown per serving: 30 calories, 1 gram protein, 2 grams fat, 2 grams carbohydrate, 1.3 grams fiber, 30 milligrams sodium.