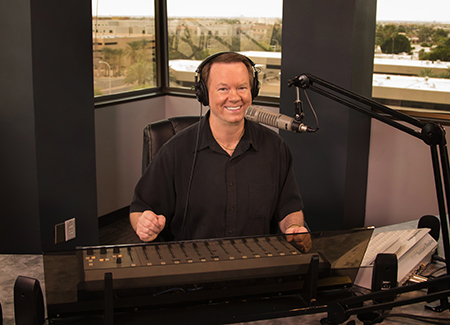 For more than 30 years, Dave Pratt has been a well-known radio personality in Arizona and throughout the nation. In Phoenix, he became known as the "Morning Mayor" and is now in the Arizona Broadcast Hall of Fame. In his own words, he had "the perfect life."
In fact, "everything was going good in 2005," Dave says. "I had a wonderful family, four amazing children and great health." Until a routine medical test threw his perfect life an unexpected curve. At the age of 43, Dave was diagnosed with prostate cancer. While it was a shock, Dave's family history provided some insights. "My dad also had prostate cancer," he says. "But still, cancer is something you don't prepare for. It took me a while to grasp the whole thing."
Even with a cancer diagnosis, Dave felt lucky. "I had the best doctors, primary care physician Dr. Doug Lakin and urologist Dr. Bernard Gburek, and the best care at Scottsdale Healthcare, now HonorHealth. At the time, minimally invasive robotic surgery was available; however, my doctor preferred the traditional surgery for my case.
"Dr. Gburek took so much time with me," Dave continues. "He was very informative and comforting. His approach really helped me through the whole process."
Life did return to normal — a new normal for Dave and his family. Drawing on his professional radio career, Dave lent his voice to a new cause. He spoke openly about his diagnosis and encouraged others to get their physicals because early diagnosis is key.
A few years after his cancer journey, Dave hit another challenge. During the economic downturn he became a radio personality without a radio station. So he decided to try something new.
"I had this idea to reinvent myself — it was the right time for me, and I wanted to take a chance," he says.
With encouragement from his wife, Dave turned to digital radio. "It was a bit of a gamble at the time," he says. Today, his Star Worldwide Networks is one of the fastest growing Internet radio and TV distributors and producers in the world with more than 100 shows in six countries. Dave hosts his own show and covers a wide variety of topics and opinions. He also hosts a TV show, "Dave Pratt Live," weekdays at 1 p.m. on CW6.
"I got lucky…again," he says with a broad smile.
Dave next turned his talents to writing. In 2008, he wrote and published his autobiography, Behind the Mic: 30 Years in Radio, with proceeds from the book going to the American Cancer Society.
Today, Dave continues his role as a passionate cancer and patient advocate. He volunteers at events for the HonorHealth Virginia G. Piper Cancer Care Network and makes bedside visits to patients.
"Cancer is everywhere, but I want people to see that I'm proof that with a positive attitude and a great medical team, there is hope," he says.