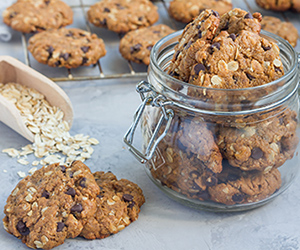 By Terri Taylor, registered dietitian
Looking for a back-to-school lunchbox treat or afternoon snack without processed sugars and chemicals? This recipe fits the bill.
Made from whole food ingredients and loaded with fiber, these bites give long-lasting energy to squelch that afternoon slump. Have a batch on hand for on-the-go snacks.
Ingredients
2/3 cup natural unsalted almond butter
¼ cup creamed honey
1 teaspoon pure vanilla extract
1 cup dry rolled oats
½ cup ground flaxseed meal
½ cup raisins
½ cup dark chocolate chips
Preparation
In a large bowl, mix almond butter, honey and vanilla together.
Add in oats, flaxseed, raisins and chocolate chips.
Roll into eighteen balls (or use a small cookie scoop).
If batter is too sticky to roll immediately, place bowl in refrigerator, covered, for 15 to 30 minutes.
Store bites in airtight container in refrigerator.
Yield: 18 bites
Approximate nutritional value per bite
150 calories, 3.4 grams protein, 8 grams fat, 16 grams carbohydrate, 3 grams fiber, 2 grams sodium
Sign up for a healthy cooking class at the HonorHealth Virginia G. Piper Cancer Center.