They say the competitive spirit can't be tamed. If ever a woman personified it, it's Amy Van Dyken-Rouen. A six-time Olympic gold medalist, she has spent a lifetime defying the odds. In a journey that has taken her from being a child limited by asthma to a world-renowned athlete, it's Amy's current role as a spinal cord injury survivor and advocate that's shaping up to be her most meaningful.
No one expected Amy to become an Olympian. Swimming was intended to be a form of therapy for her crippling childhood asthma. Then she fell in love with the sport. The girl who once couldn't swim the length of an Olympic-sized pool ultimately found herself at the top of the podium at Olympic games in both Atlanta and Sydney.
Amy's success wasn't a matter of luck. Rather, it was her unshakeable will to prove that she could do more than expected that led her to the top of her sport. Fourteen years later, a freak all-terrain vehicle accident in June 2014 altered her course.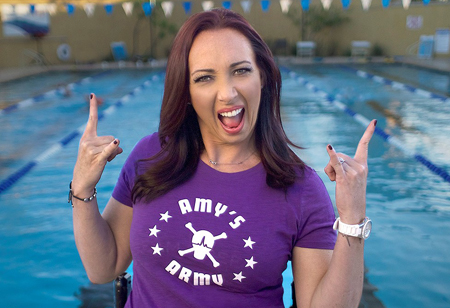 Amy's spine was severed. She sustained several fractures to her back, including between her T11 and T12 vertebrae. She also suffered broken ribs, a head injury, and a severe vascular injury. Her prognosis was anything but good.
Life-threatening spinal injury
"My T12 vertebra was basically touching my aorta and threatening my life," she said. "The sac around my spine had burst, and I was leaking spinal fluid."
Airlifted from the crash site in Torreon, a community near Show Low, Arizona, to HonorHealth Scottsdale Osborn Medical Center, she was a Level I trauma patient. Neurosurgeon Luis M. Tumialan, MD, an independent member of the HonorHealth medical staff, assessed Van Dyken-Rouen's injuries and established a medical game plan.
"No one knew what the outcome would be," Amy said. "Dr. Tumialan even told me to say goodbye to my husband." Due to the extent of her injuries, she had only a 20 percent chance of surviving surgery. As a registered organ donor, an organ recovery team was on standby.
Flanked by a cardiothoracic surgeon, trauma surgeons and other medical experts, Dr. Tumialan set out to do the impossible — save Amy's life. More than seven hours later, the team successfully emerged from the operating room.
"He [Dr. Tumialan] basically backed a bone out of my aorta without severing it," Amy explained. "That's a big deal."
Paralyzed from the waist down, Amy spent the next two-and-a-half weeks in the hospital's intensive care unit. HonorHealth doctors and nurses watched for signs of spinal shock, which typically occurs within the first 72 hours of a spinal cord injury. They also helped the Rouens adjust to their new reality and assisted in coordinating rehabilitation at a facility in the couple's hometown of Colorado, where they would be close to family.
Dealing with paralysis
In Colorado, Amy's rehabilitation ultimately included speech, physical and occupational therapies, and even wheelchair classes to help her navigate life on wheels.
"Dr. Tumialan came in twice a day to check on me (at Scottsdale Osborn)," Amy recalled. "I was the last patient he wanted to see each day because I made him smile."
Amy has that effect on people. Despite the countless obstacles suddenly thrust in front of her, she chose to embrace life, show gratitude for those who helped her, and focus on the fact that everything happens for a reason. She's also more than willing to give credit where she feels it's due.
"Dr. Tumialan is the guy that saved my life," she said. "He was the neurosurgeon on call, and I'm really glad it was him. I know there's a reason he was there, just like I know there's a reason I'm still here."
She gives a voice to those with spinal cord injuries
There's no denying that Amy's here to give a voice to others facing spinal cord injuries.
Through the Amy Van Dyken Foundation, the former Olympian and on-air radio personality rallies donors, friends and supporters to form Amy's Army. Together, they help obtain and donate wheelchairs to children with spinal cord injuries and/or deformities.
"We started the foundation to help donate durable medical equipment," she said. "Then I went to Phoenix Children's Hospital, and the experience changed my mission."
Frustrated with insurance rules that only allow children to receive one wheelchair every five years regardless of their accelerated growth rates, she decided to focus her foundation's efforts on providing wheelchairs to pediatric spinal cord injury patients.
"I feel like I'm here for a bigger reason — that I'm on borrowed time – and I don't want my last minutes to be known for complaining," she said in her truly positive spirit.
Rather than complain, Amy's proving that a spinal cord injury doesn't mean life is over.
HonorHealth has three Level I trauma centers — at Scottsdale Osborn, John C. Lincoln and Deer Valley medical centers — where neurosurgeons and other highly trained experts save lives every day.