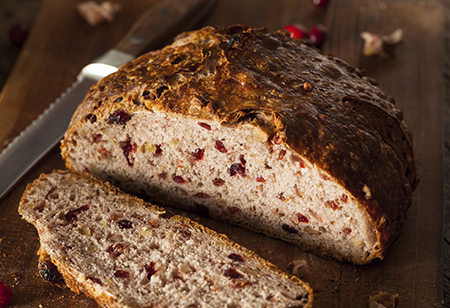 What comes to mind when you think about baking: Sugar? Butter? Flavor? Yum! We know it. What if we told you there are some small and easy substitutions you can make when you're baking to keep things flavorful and a bit healthier? Here's a recipe from Terri Taylor, an Honorhealth Registered Dietician, that proves you can have it all. At least when it comes to baked goods.
Healthy Cranberry Walnut Bread
Ingredients:
1 ½ cups fresh Cranberries
2/3 cup ground Flaxseed
1 cup Whole wheat flour
1 cup unbleached Wheat flour
1 ½ teaspoons Baking powder
½ teaspoon Baking soda
1 teaspoon ground Cinnamon
¼ teaspoon ground Allspice
¼ teaspoon Salt
1 large Egg
¼ cup Sugar
¼ cup expeller pressed Canola oil
1 teaspoon Vanilla extract
¾ cup 100% Orange juice
2 Tablespoons Orange zest
½ cup chopped Walnuts
Directions:
Preheat oven to 350◦ F
Coat three, 6-by-3-inch each, mini loaf pans with nonfat cooking spray
Pulse cranberries in a food processor until coarsely chopped
In large bowl, mix flaxseed, flours, baking powder, baking soda, cinnamon, allspice and salt
In medium bowl, whisk egg, sugar, oil, vanilla, orange juice and orange zest
Add to flour mixture
Mix with rubber spatula just until dry ingredients are moistened
Fold in cranberries and ¼ cup walnuts
Scrape batter into prepared pans, spreading evenly
Sprinkle loaves with remaining chopped walnuts
Place pans on baking sheet
Bake loaves about 35-45 minutes, until tops are golden and cake tester or toothpick inserted in the center comes out clean
Cool in the pans on a wire rack for 10 minutes
Loosen edges. Turn loaves out onto wire rack to cool completely before slicing or wrapping.
Yield: 3 mini loaves, 8 slices each.
Approximate nutritional breakdown per slice: 105 calories, 3 grams protein, 5 grams fat, 12 grams carbohydrate, 2 grams fiber, 84 milligrams sodium.