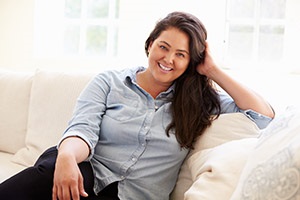 When you're struggling to lose weight, it's easy to feel frustrated.
You've heard it a million times:  "If only you had more willpower." . . . "You just need to exercise more.". . . "It's easy — calories in/calories out."
The reality is, it's simply not that simple. The struggle is real.
You've probably been on and off diets for years. But there may be physiological reasons why you can't lose weight. The hormones that control appetite and that signal when you're full might be working against you. One of these hormones, ghrelin — the one that increases appetite ­— is even referred to as the "gremlin in the stomach."
Obesity is a disease. As with any medical condition, seeking treatment is the most proactive way to move forward.
How bariatric surgery works
With bariatric weight loss surgery, you're only able to eat small amounts of food because the surgeon reduces the size of your stomach. But that size reduction often only leads to 10 percent of your weight loss. Most of it occurs because bariatric surgery actually changes the way your gut hormones react to food. Your appetite is decreased, and you feel full more quickly, a process referred to as satiety. Those are real changes that can lead to long-term weight loss and maintenance.
"People don't fail diets. Diets fail people," says James Swain, MD, medical director, HonorHealth Bariatric Center. "Metabolic issues are one of the main reasons why because diets do nothing to change the way the body reacts to food. After weight loss surgery, we see near immediate hormonal changes such as decreased appetite and increased satiety. This, along with education and support, leads to long-term weight loss and maintenance."
Are you a candidate for bariatric weight loss surgery?
To determine if bariatric weight loss surgery is appropriate for you, start by knowing your Body Mass Index (BMI). This is a measure of body fat based on your height and weight. If you have a BMI of 35 or higher and are experiencing obesity-related health concerns, a minimally invasive surgical option such as gastric bypass or gastric sleeve might be appropriate.
Obesity is linked to a number of serious health issues such as heart disease, certain cancers, osteoarthritis and diabetes. Because of these associated health concerns, it's important to control your weight before your weight controls you. Part of your evaluation for bariatric weight loss surgery is to determine the course of action that's best for you.
"Weight loss surgery is certainly not the first thing you try when looking to lose weight, but it doesn't have to be a last resort, either," says Dr. Swain. "Often, we can improve or eliminate health issues before they create lasting problems. We've even seen Type 2 diabetes reverse itself rather quickly after surgery."
Multidisciplinary approach
Undergoing bariatric weight loss surgery is one step in a journey, and the more support you have, the better. A multidisciplinary approach is key with a team of physicians, dieticians, exercise specialists and behavioral health experts giving you the tools to be successful.  
Weight loss surgery is not a cure-all, and it's not the easy way out. It's a means to an end that still includes diet and exercise. You'll learn how to eat properly by getting away from quick sugars and making healthier choices such as lean protein and vegetables. As you lose weight, you might find that exercise is not really a chore because you simply feel better overall.
Many people feel it's the best decision they ever made.
"The number one comment I hear post-surgery is that patients wish they'd taken this step years ago," says Dr. Swain. They just feel so much better."