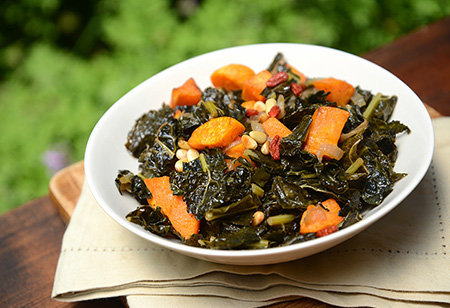 Here's a recipe filled with cancer-preventive ingredients. What's more: it's easy to make and any vegetables can be included or added so you can make it to order.
Eating cruciferous vegetables such as Brussels sprouts and kale is linked to lower risk of cervical, colon, breast and lung cancers.
Meals in a bowl like this one are an easy and healthy way to use up leftover vegetables and grains. Cooked bulgar or wheatberries can replace the quinoa.
Superfood Bowl
Ingredients:
1 large Sweet Potato, chopped into ¾-inch cubes
2 large Beets, chopped into ¾-inch cubes
1 cup fresh Brussels sprouts, cut into halves
2 Tablespoons Extra virgin olive oil > Also read: Why olive oil is good for you
½ teaspoon salt
½ teaspoon ground Black pepper
1 (15-ounce) BPA-free can organic Chickpeas, drained and rinsed (or 1 ¾ cups cooked from dry)
2 teaspoons ground Cinnamon
¼ cup Tahini
1 Tablespoon pure organic Maple syrup
½ Lemon, juiced
2 to 4 Tablespoons hot Water to thin
4 cups shredded Kale
2 cups cooked Quinoa
2 Tablespoons roasted Pecans
Directions:
Preheat oven to 400-degrees F.
Line 2 large rimmed baking sheets with parchment paper.
Toss cubed sweet potatoes and beets and halved Brussels sprouts with 1 Tablespoon olive oil, ¼ teaspoon salt and black pepper.
Drain and rinse chickpeas.  Place on large tea towel and pat completely dry. Discard any loose skins.
Toss chickpeas with 1 Tablespoon olive oil, ¼ teaspoon salt and cinnamon.
Spread vegetables on one baking sheet.
Spread chickpeas on other baking sheet.
Place both baking sheets into preheated oven.
Roast for 15 minutes. Toss sweet potatoes and chickpeas and return to oven for additional 15 minutes, or until chickpeas are golden and sweet potatoes are lightly browned on the bottom and fork tender.
Allow vegetables and chickpeas to cool about 5 minutes.
Whisk tahini, maple syrup and lemon juice in small mixing bowl to make dressing.
Add hot water if needed to thin to pourable consistency.
Place kale in bottom of 4 individual bowls.
Divide roasted vegetables and chickpeas between the bowls.
Add ½ cup cooked quinoa to each bowl.
Sprinkle each bowl with pecans.
Drizzle with tahini dressing.
Yield: 4 bowls.
Approximate nutritional breakdown per bowl: 396 calories, 14 grams protein, 12 grams fat, 58 grams carbohydrate, 10 grams fiber, 396 milligrams sodium.
Looking for more ways to fight disease? Talk to an HonorHealth primary care doctor. Our integrated system of care means simpler, more accessible healthcare for you.