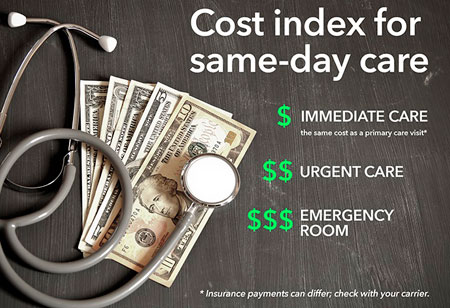 Your throat is super sore at 10 a.m. on a Saturday, and you want to see a medical professional. Should you head for immediate care, urgent care or the emergency room?
If you'd like walk-in care that's less expensive than urgent care, head for the convenience of HonorHealth immediate care.
The HonorHealth Medical Group offers immediate care at four Valley primary care locations — two serve Phoenix and Scottsdale, another is in Glendale and a fourth is in Anthem. You'll find:
Same-day care for a non-life-threatening condition. No appointment is necessary.
A lower co-pay than urgent care. With HonorHealth immediate care, the fee is the same as a visit to your primary care provider, which typically is about $25. And that's lower than urgent care fees, which often run about $60. (Please note: Insurance payments can differ, so be sure to check costs with your carrier.)
A walk-in appointment and a typically short wait time.
A reliable, cost-effective alternative to the emergency room.
Common ailments or injuries that can be treated at HonorHealth immediate care include: allergies, asthma, back pain, cold and flu, cough or bronchitis, minor cuts and burns, earaches, headaches, minor injuries, school and sports physicals, and sinus and urinary tract infections.
What about the ER?
If your medical emergency is a condition that could cause death or permanent injury if not treated quickly, go to the emergency room. These include: Chest pain with dizziness, nausea, sweating, shortness of breath or pain radiating to the neck, jaw or arm; loss of consciousness or vision; poisoning or suspected drug overdose; severe abdominal pain; stroke symptoms; and traumatic injury to the head, neck or abdomen.
The chart below illustrates the types of injuries and illnesses that can be addressed at two different levels of care:
| | |
| --- | --- |
| Immediate Care | Emergency Room |
| Fever | Fever with stiff neck |
| Strain and sprain | Broken bone or dislocated joint |
| Cut | Serious cut |
| Minor burn | Serious burn |
| Vomiting and diarrhea | Severe abdominal pain or intestinal bleeding |
| Allergies | Severe allergic reaction |
| Minor injury | Seizure |
Immediate Care / Urgent Care Locations
Click any of the HonorHealth Medical Group immediate care locations below for more information including driving directions, hours of operation and a list of physicians.