If this is your first time (or even if it's been a while since you've had a mammogram), here are some pointers to help you through this important test:
1. Your privacy is respected, and exposure is limited.
At HonorHealth's Breast Health and Research Center, the experience is spa-like, with plush waiting areas, private changing rooms and fluffy robes. Even better? You can keep on everything below the waist.
You only have to disrobe the breast being filmed.
You should not wear deodorant or lotion. If you did, you'll be provided wipes to remove it.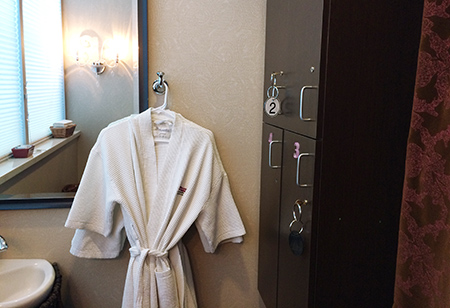 2. During your appointment, images will be captured of each breast.
The mammogram itself typically doesn't hurt, but you'll feel extra pressure. Your breast is compressed between two plates — the compression provides the best X-ray image of your breast possible. This compression is held while the technician captures the image and then released immediately afterward.
The better you can keep still, the better the pictures. If not, you'll have to re-do the image.
Your X-ray technician will take pictures of each breast, each at a different angle.
Your technician will guide you in how to "pose" with the machine (think "Reclining Cleopatra").
3. There are two types of mammograms — screening and diagnostic.
A screening mammogram is one that happens at regular intervals if you don't have any lumps or areas of concern to ensure everything is OK.
A diagnostic mammogram is one you may have if you or your doctor find a lump or another issue that needs evaluation. You may have additional images taken, and you may also have an ultrasound. At HonorHealth Breast Health and Research Center, you'll get your results while you wait if you're there for a diagnostic exam.
4. Some exposure to radiation.
The amount of radiation you receive during a mammogram is equivalent to what you get normally in your everyday environment over about seven weeks, according to the American Cancer Society.
5. In and out fast.
From the time you change into your robe and change back into your clothes, you'll most likely spend about 20-30 minutes tops.
6. Know your breasts.
Beyond your regular mammogram, you should get to know your breasts. It sounds strange, but it's true. The more you know the contours and lumps of your own breast through regular self-exam, the earlier you can spot any issues of concern — plus, the more confident you'll feel during your screening appointments.
To schedule your mammogram at one of three HonorHealth Breast Health & Research centers in the Phoenix area, call 623-780-4673. To schedule your mammogram at a Scottsdale Medical Imaging location, call 480-425-5030.