The last four years have been eventful for Wendy, a retired special education teacher living in Sun Lakes. For starters, she's become a grandmother four times over. And she's been able to enjoy her growing family while battling stage 4 breast cancer — with her hair intact.
First diagnosed in 2002, she underwent chemotherapy and radiation. She discovered that she was a carrier of an inherited BRCA2 genetic mutation that put her at very high risk of developing breast cancer in her lifetime.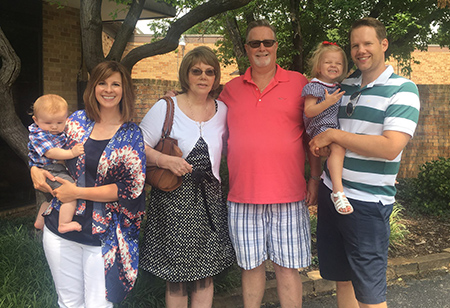 Despite the best standard treatment, her cancer recurred. However, thanks to a clinical trial of a drug that just gained FDA approval for advanced and/or metastatic breast cancer patients with this same mutation, Wendy has been in remission. Taking a daily oral medication, she has experienced only a bit of nausea and fatigue.
Embraca Study brings new cancer drug to market
The drug talazoparib was part of the large phase 3 Embraca Study. However, the HonorHealth Research Institute has been participating in the development of this drug from its beginning stages. The Research Institute was one of the pioneer sites for the earliest phase 1 trial to evaluate the drug's safety, and the right dose and schedule. This was a critical step to moving forward to the phase 3 trial that led to FDA approval. The drug came to market as Talzenna on Oct. 16, 2018.
"When I found out my cancer had returned, I was referred to a doctor who believed I was a candidate for this study," Wendy said. "She was right, so I enrolled in the study. It takes some bravery to participate in a clinical trial, but it's been completely worth it."
The doctor who recommended that Wendy consider participating in this study was Jasgit Sachdev, MD, director, Breast and GYN Cancer Early Trials Program at the HonorHealth Research Institute.
"This is precision medicine at its finest," said Dr. Sachdev. "Cancer can be vastly different from person to person. We can now individualize treatments, targeting specific biomarkers based on the genetic makeup of the cancer and the patient. In patients with inherited BRCA mutations, talazoparib blocks the enzyme the cancer relies on to survive. Without the enzyme, the cancer cells die.
"Wendy is our longest-term patient on this drug, and I'm thrilled to report that she has remained in complete remission for quite some time!"
Research Institute clinical trial
As part of the clinical trial, Wendy received free medication — and will continue to do so. She also has regular exams and CT scans.
Clinical trials typically run in phases. If a drug looks safe and promising as a potential new therapy in phase I, it moves on for further study.
After following 113 patients with breast and ovarian cancer in the phase I study, promising results with talazoparib prompted researchers to move directly to a phase III trial. It involved a head-to-head comparison of talazoparib with standard chemotherapy in 430 breast cancer patients with BRCA mutations.
During phase III, researchers compared the drug to the current standard of care. Based on random assignments, some patients got the study drug while others received chemotherapy.
"I was fortunate to be chosen for the group given the investigational drug, as opposed to needing to undergo chemotherapy again," Wendy said. "The drug has successfully treated my cancer. I'm so very glad I took this step, which seemed like a risk. It's allowed me to continue to live a full life, even with breast cancer."
Established in 2005, the HonorHealth Research Institute offers cutting-edge treatments often not available elsewhere. Patients receive personalized care wrapped with the best science and technology.
Life-saving and life-extending options
"We strive to find treatments that are safe and effective, with tolerable side effects," Dr. Sachdev said. "Often we're working with these medications three to 10 years before they come to market. That allows patients like Wendy to have access to options that wouldn't have been available to them otherwise.
"If you or someone you love has been diagnosed with cancer, I encourage you to look into clinical trials," she continued. "There are many targeted options now that didn't exist just a few years ago. You may also help others, patients like Wendy, who are now living a full and happy life."