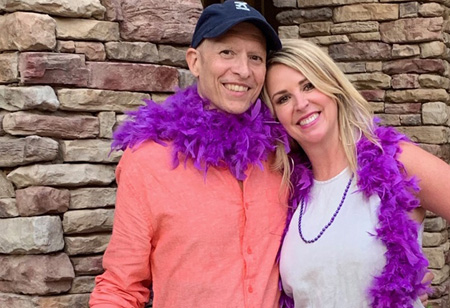 It's been a tumultuous year-and-a-half of major life changes for airline pilot Craig, 47, and his wife Tricia, who previously owned a hair salon.
The toughest challenge for the couple? It wasn't moving from Park City, Utah, in September 2017 to Fort Lauderdale, Fla., to boost Craig's chances of becoming an airline captain. It wasn't even evacuating that city one week after their arrival when Hurricane Irma threatened to make landfall as a Category 4 storm.
The biggest challenge came in June 2018 when Craig — now a captain — experienced stomach pain and noticed that his eyes looked yellow, a sign of jaundice. The next day, an urgent care center in Fort Lauderdale told him to go to a hospital emergency department.
"Within an hour I was diagnosed with a mass in my small intestine," Craig said. Doctors later confirmed it was cancer of the pancreas. In mid-July 2018, he underwent a procedure known as the Whipple, a rigorous surgery to remove pancreatic tumors, the first part of the small intestine (duodenum), the gall bladder and bile duct. Surgeons reattach the remaining organs, allowing patients to digest food normally after surgery.
Craig tolerated the surgery well but began to experience complications days later.
"He was so sick that his perfectly healthy lungs were nearly destroyed," Tricia said.
Five days after the surgery, he was admitted to the ICU at the Fort Lauderdale hospital, lapsed into a coma and didn't wake up until mid-August 2018.
Stage 4 pancreatic cancer diagnosis
The couple had been in no hurry to marry because they had both been married before.
"When I woke up from the coma, I realized the person taking care of me, who was there for me every day, was Tricia," Craig said. "I wasn't in good shape, I wasn't healthy, and yet she was still by my side. That's when I knew what true love is, and that's when I knew I wanted to marry her."
On Sept. 11, 2018, with Craig still in his hospital bed, the couple exchanged wedding vows. When finally discharged from the hospital for the second time, Craig learned that he had stage 4 pancreatic cancer. A scan in November 2018 revealed that the cancer had metastasized to his liver. Doctors in Florida were recommending standard-of-care chemotherapy at 50% of the maximum dose because Craig was still so weak.
"But they only gave me six to nine months to live, and Tricia and I just didn't want to accept that," Craig said.
He started researching other possible treatments and got a call one afternoon from a friend in Phoenix. His friend wanted him to connect with HonorHealth Research Institute in Scottsdale, which offered several pancreatic cancer clinical trials. Craig and Tricia flew to Scottsdale so that Craig could be evaluated for participation in a clinical trial involving three chemotherapy drugs and high-dose intravenous vitamin C. He qualified for the trial.
By the end of December 2018, Craig and Tricia moved to the Scottsdale area so Craig could take part in the trial.
Clinical trial shows encouraging initial results
After being on the chemotherapy plus vitamin C protocol for nine weeks, a CT scan showed that Craig's tumors had shrunk by between 30 and 50%.
Erkut Borazanci, MD, pancreatic cancer program director and medical oncologist at HonorHealth Research Institute, told Craig it was a wonderful result.
"The combination of gemcitabine, nanoparticle paclitaxel protein-bound (also known as Abraxane), and cisplatin achieved a 71% response rate in a phase 1B/II trial of 25 individuals with metastatic pancreatic cancer," Dr. Borazanci said. "That means that seven in 10 individuals with stage 4 pancreatic cancer had a tumor shrinkage of 30% or more." Ascorbic acid (vitamin C) in high concentrations has been shown to cause oxidative damage in cancers with certain mutations, he noted.
"Craig is a resilient individual who has endured much since being diagnosed with pancreatic cancer," he said. "He has also traveled to receive therapy far from home. I'm always amazed by the spirit that individuals like Craig exhibit during treatment."
Genetic testing plays a crucial role
Dr. Borazanci also shared that Craig underwent genetic testing, which helps not only Craig, but also patients like him.
"We used to think certain genetic mutations affect only a handful of individuals with pancreatic cancer," Dr. Borazanci said. "But we're finding more and more individuals who carry a genetic mutation. These mutations also have great implications for treatment and inform family members of risks for pancreatic and other cancers. I encourage everyone with a diagnosis of pancreatic cancer to not only look at options with clinical trials, but also to discuss genetic testing with their oncologist."
Craig's advice to individuals diagnosed with a devastating disease is this: "Though it's confusing, frustrating and scary, you don't have to become a statistic. If you decide you're gonna live, you're gonna live."
"HonorHealth gives us hope," Tricia said. "I would advise anyone in this situation to always to be positive and not feed into your fears. Feed into your hope."