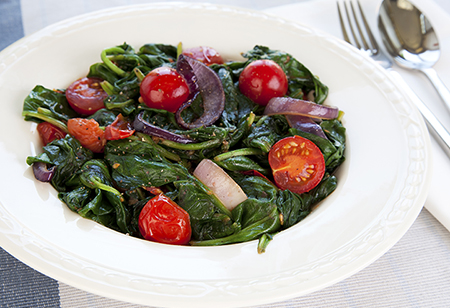 While you may usually eat leafy greens raw in a salad, cooking leafy greens actually helps to make them more palatable as well as release beneficial phytochemicals.
Serves: 5
Ingredients:
2 pounds Swiss Chard, stemmed and washed.
2 tablespoons extra virgin olive oil.
1 large onion, chopped.
3 garlic cloves, minced.
2 teaspoons sweet paprika.
1/4 to 1/2 teaspoon cayenne.
Salt to taste.
2 pounds fresh tomatoes (or 28-oz BPA free can chopped tomatoes with juice, low sodium).
1/2 cup fresh mint, chopped.
1/2 cup fresh fennel or dill, chopped.
2 tablespoons tomato paste, diluted in 1/2 cup water.
Freshly ground black pepper to taste.
Directions:
Steam the greens in a large steamer for 2 minutes. Rinse and squeeze dry.
In a large skillet, heat the oil over medium heat and add the chopped onion. Cook until the onion is tender and beginning to color (about 5-8 minutes).
Stir in the garlic, paprika, and cayenne.
Add the tomatoes and salt to taste.
Bring to a simmer and continue to cook until the tomatoes have cooked down slightly (about 10 minutes).
Add the greens, mint, fennel, and tomato paste. Cover and simmer until the greens are very tender (about 20 minutes).
Add pepper to taste.
Serving suggestion: serve with brown rice, bulgur, or whole grain bread.
Approximate nutritional breakdown per serving:
Calories: 131
Protein: 5 grams
Fat: 6 grams
Total Carbohydrates: 18 grams
Dietary Fiber: 7 grams
Sodium: 401 milligrams
Source: Recipe provided by Terri Taylor RD, HonorHealth Virginia G. Piper Cancer Center.