Terri Taylor, a registered dietician with the HonorHealth Virginia G. Piper Cancer Care Network, provides this colon-healthy recipe.
Eating breakfast offers many health benefits including weight control and improved concentration. Yet some traditional breakfast foods are associated with higher cancer risk. Bacon, sausage, ham and other processed meats may increase cancer risk. Research shows that for every 50 grams of processed meat you eat on a daily basis — the equivalent of 1 sausage, 2 strips of bacon or 1 hot dog— the risk for colorectal cancer is increased by 20 percent and for pancreatic cancer by 19 percent.
Eating processed meat is also linked to a higher risk of prostate and breast cancer. This plant-based sausage recipe is the solution. Replace your usual sausage with this one to lower your cancer risk and reduce your sodium and saturated fat intake.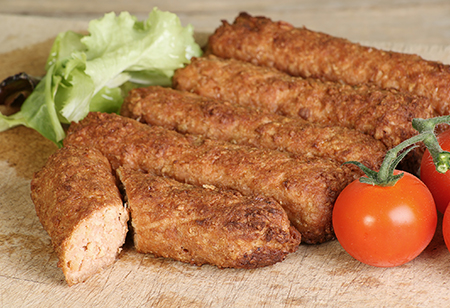 Ingredients
1 Tablespoon ground flaxseed meal
3 Tablespoons water
1 ½ Tablespoons reduced-sodium tamari sauce
1 Tablespoon expeller-pressed canola oil
1 teaspoon molasses
¾ cup rolled outs (not instant)
1 cup brown rice (measured after being cooked)
2 Tablespoons white whole wheat flour
2 Tablespoons nutritional yeast flakes
1 Tablespoon ground sage
½ to 1 teaspoon ground black pepper
¼ teaspoon ground nutmeg
¼ teaspoon red pepper flakes
Mix
In a small bowl, whisk ground flaxseed, water, tamari, oil and molasses together.
Let hydrate for 10 minutes.
Add cooked rice, flour, nutritional yeast, sage, pepper, nutmeg and red pepper flakes.
Drizzle the wet ingredients on top of dry ingredients.
Process until just mixed.
Make 1 Tablespoon balls.
Pack firmly in your hands, then flatten.
Place on a parchment-lined plate.
Cover tightly.
Refrigerate until needed.
Cooking
When ready to cook, remove from the refrigerator 30 minutes to warm up.
Heat a large stainless steel skillet over medium heat.
Drizzle in a small amount of canola oil.
Fry half the patties until browned; flip over and fry until other side is browned.
Remove to a plate.
Repeat frying process with remaining patties.
Yield: Approximately 17 sausages.
Approximate nutritional breakdown per sausage: 54 calories, 2 grams protein, 1.6 grams fat, 8 grams carbohydrate, 1.4 grams fat, 62 milligrams sodium.