HonorHealth Medical Group - Chaparral - Primary Care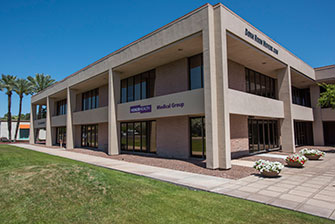 The family doctors at this Scottsdale primary care office are known for listening carefully to their patients, realizing that developing a good connection with you takes time.
Good communication allows them to provide the preventive care that can catch disease before it happens.
The practice treats patients from age 10 to the elderly. As part of their primary care practice, the physicians care for patients with diabetes, HIV/AIDS as well as gay, lesbian and transgender health issues.
The office opens early to accommodate busy families, is accepting new patients and provides same-day appointments for acute cases.
Located near Scottsdale Fashion Square mall in central Scottsdale, the office is just located north of Chaparral Road on the east side of Scottsdale Road. The office is in a center that has an events company and a hospice facility. You'll find plenty of parking spaces near the entrance of the building.
Because patient communication is such a priority, the family physicians work closely with the front and back offices to ensure that you always come first. That teamwork is evident from the time you make your appointment to when you leave the office. For your convenience, you can have your lab work done in the office.
In their after-visit surveys, patients often mention the "super friendly staff and doctors". One patient said, "I just want to say that it was a fabulous experience. I had never been to a primary care doctor before, but she was thorough and really listened and explained. I'm so happy I found her. I don't know if she could have done anything better."
The family doctors and staff at the Chaparral practice look forward to becoming your healthcare partner.
Call for an appointment: 480-882-7330.
Primary Care Hours
Monday - Friday: 7:00 a.m. to 5:00 p.m.
See the Patient Resources page for forms, information about appointments, cancellations, billing and more.
Our Team
Contact & Location
Location:
HonorHealth Medical Group - Chaparral - Primary Care
Address:
5111 N. Scottsdale Rd., Suite 143, Scottsdale, AZ, 85250
Featured Services
Medical Group Services
Adolescent wellness visits
Assessment and treatment of all illnesses and accidents
Auto-immune disease evaluations
Back pain
Behavioral health
Blood pressure management
Breathing treatments (Nebulizer)
Cholesterol management
Chronic disease management
Complete physicals
Dermatology procedures
Diabetes management
Diagnostic testing
EKGs
Evaluation of musculoskeletal injuries and complaints (injuries to muscles, nerves, tendons, joints and/or cartilage)
Family medicine
Finger-stick testing
Headaches and migraines
Health risk assessment
Immunizations
Internal medicine
Joint injections
Lab on-site
Liquid nitrogen treatments
Medicare physicals
Minor surgery/suturing
Newborn care
Osteoarthritis and joint pain
Pap tests
Pediatrics
Personalized healthy lifestyle counseling
Physical therapy services
Pre-operative exams
Preventive care/Health screenings
Pulmonary function testing
Same day appointments
School/sports physicals
Skin issues
Sports-related injury treatment
Therapeutic injections
Treatment of work-related injuries
Weight management/Bariatrics
Well child exams
Well woman exams
Wellness visits (annual)
Women's Health
Work physicals