When you need a breast MRI, you want the most skilled physicians and best equipped treatment center. You'll find both at HonorHealth's Breast Health and Research Center. It offers a breast MRI (magnetic resonance imaging) system that balances image quality, diagnostic accuracy and patient comfort. And our breast specialists are experts in performing breast MRI and reading breast MRI images.
The Breast Health and Research Center is among the few breast centers in Phoenix that perform both breast MRI and breast MRI biopsy procedures.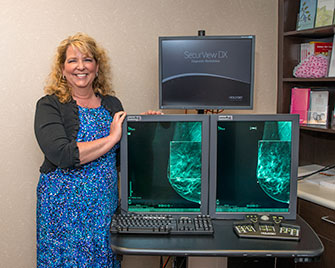 Breast MRI:
Is used in special cases. It's not a routine procedure for breast cancer screening.
Is used to support the findings of a biopsy or workup.
Captures many cross-sectional images of the breast. A computer will compile these scans into 2-D and 3-D images.
A breast MRI can be helpful if you:
Have very dense breasts.
Are at a high genetic risk for breast cancer.
Have a family history of breast cancer.
In these cases, a breast MRI can provide information when a mammogram cannot.
If you're already diagnosed with breast cancer, breast MRI can help ensure that other areas of the breast are not cancerous. That information can help us plan surgery appropriately.
Specialized Equipment
Our equipment makes MRI exams much more comfortable. You'll lie face down, with breasts positioned against cushioned, comfortable, MRI coils that emit radiofrequencies. The system guides you in and out of the scanner feet-first. Because your head will stick out of the machine, you won't feel claustrophobic.
In addition, our dedicated breast specialists are experts in breast MRI and reading breast MRI.We use one machine for MRI and MRI biopsy. This not only offers you convenience, it also provides our dedicated breast radiologists with the clearest, most accurate images possible.